Dear Mr. Johnson
November 21, 2011
Dear Mr. Johnson,


I'm writing this letter to you sealed with a kiss and a hint of my cotton candy perfume, because this will be the last sign of my existence to you. Its now time for me to go Mr. Johnson.
I've realized that I made up a image in my head of you and even though your behaviors constantly proved me wrong, I still wanted to believe that my true love was engraved in you somewhere in that cold heart.
You called me beautiful. Your animal like instincts are what told you to do so. Your keen sense of smell smelled my insecurities. You knew that those simple words would capture me and eat me alive until I realized that I loved you. You turned me into a naive peasant Mr. Johnson. Little did I know that at the time that you could read my story just by looking in my eyes. You turn that into a chance to crush me, and a chance to twist my sad story around my soul repeatedly until it was fully wounded. That way I wouldn't feel anything when you sold me Mr. Johnson.
You stripped me and redressed me until there were nothing left but panty-like shorts, a skin tight shirt, heels and blood red lipstick. You told me I looked even more gorgeous that way, and I should show the world my beauty starting at 11 PM that night. You said I should put on a show for men to see, they would even pay me. I felt a sense of disrespect to myself. But with a tilt of your hat and a "off you go", made me second guess myself. Now I can't deny the fact that you changed me Mr. Johnson.
I've been through the blank state of mind for years, and I finally came out of it. I ran away to a better sense of self even after all that you've put me through. I am not just an ass. I am a woman with a heart, a forgiving one at that. I figured that now is the time to forgive you. I'm saying goodbye with a sealed kiss and a scent of my cotton candy perfume, Mr. Johnson.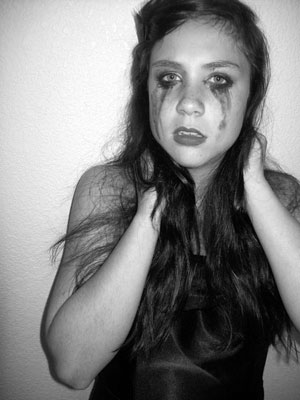 © Tiana D., Monument, CO