Everything to me
November 14, 2011
Everything is broken into a million pieces. It's difficult to breathe. I can't help wonder why now, did she have to leave? Why did she have to be taken away from me? She was the only important creature I could connect with. We shared childhood memories, lovable laughter, stupid fights, yet in the end she slipped through my rough fingertips.

I can't see her face anymore when I head down Peach Hill, My heart fully broken without her next to me. I don't think I'm able to move on. She was my girl. When Pop would come home late from one of his late night drinking parties, she would come over the next day to ice my bruises. As the tears fell down my cheeks, she would wipe them away so gentle and so sweet.

The police say this is my fault. They sit in their brown leather chairs glaring their eyes at me through the metal cage between us. I am being treated like some sort of animal.
I didn't mean for her to leave like this. I loved her with all of my heart, soul, my everything. I just lost control…
Nobody will understand. So I sit here inside my cage waiting for what the future holds. She is not here to wipe away my tears.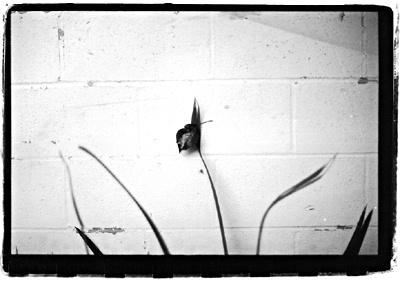 © Rebecca W., W. Hollywood, CA