haunted memories
November 4, 2011
Last Night I dreamt of a mental hospital but it felt really real. I can even now smell the sterile cleanness of the room I was in. I feel the restraints and faintly hear the mad ravings of people lost in their own delusions but I know that I am just at the park. Often on a sunny day my family and I come to the park to have a family picnic. Today is a beautiful day in fall with the sky clear blue and cloudless. I am sad that the park is closing at the end of the month but all good things come to an end.
Mom and Dad set up the blanket as my little sister and little brother play in the grass together. Jason is wearing his favorite shoes, red hightops while Jamie caries her doll in her arms. Jamie and Jason are twins and are only seven years old but I love to watch them grow up. I cannot wait until me and Jamie can go shopping together and I can watch Jason play baseball in high school. Jamie asks me to play dolls and we sit under the tree combing their hair. A sudden flash of Jamie's doll bloody and lying in the grass but as quickly as it appears it is gone again.
After Jamie and I are finished playing dolls Jason asks if we could play hide and seek so I start to count while they hide. After one-hundred I open my eyes and look around but neither of the twins is in sight. While I am looking for them I start to feel all alone and the silence feels menacing like the calm before a storm. I start to panic, I run from hiding spot to hiding spot yelling for Jamie and Jason for what seems like hours. Just as I am giving up I catch a glimpse of bright pink through the trees and then the twins are right in front of me. Although I don't know why I pick them both up and hug them and after I put them down I hold on to their hand so I won't lose them.
When we return from hide and seek Mom and Dad are holding hands and sitting together on the blanket waiting for our return. Two hands clasped together in a forming pool of crimson but I shake my head and the vision is gone. Mom tells us to sit down and stay awhile but all I want is to get in the car and go home. The lunch is set out on the blanket and I eat with a mounting sense of dread while dark memories lurk at the outskirts of my mind; memories I can't and won't remember because I am happy in this moment with my family and I don't want the happiness to end.
After lunch is finished and put away Dad pulls out his old guitar and he starts playing while Mom sings along. The twins dance around Mom and Dad leaving me at the edge of the group. I feel like I am no longer part of the family; like they have all moved on and left me alone. When Dad finishes his song the twins beg to go to the playground across the park and play on the swings so Mom and Dad head over and I tell them I will follow in a few minutes. As I pick up my stuff and pack it into my bag I enjoy the quiet and peace that I have while by myself. Slowly I head to the playground not over eager to join the family again when I hear screaming.
People run by me screaming and yelling and from what I can discern someone has brought a gun into the park. While everyone is running out of the park I run farther in looking for my family. All around there is panic and hysteria and I can hear sirens in the distance. I reach the playground and see Mom and Dad standing in between the twins and the man with the gun. The guy is average looking, he is wearing a plain t-shirt and jeans and sneakers he doesn't look crazy but then again madness isn't always easy to see.
I run towards my family and it is like time slows down and I can't reach them. I watch helplessly as he raises the gun and takes aim at my parents. I will never reach them in time to do anything and as I watch they are shot right in front of me and the twins. They fall down one after the other and hold hands as their souls depart from this world. Then as I am still two-hundred yards away he points the gun at Jamie and I yell "kill me" but all he sees is Jamie as he fires. Jamie with her arms clasped around her doll cries out and just as she is falling the man with the gun looks at Jason and raises his gun again. A hundred yards too far away I watch helplessly as the gun kicks back and Jason's small body jerks. I am crying and running towards my family as the gunman walks away.
The police are coming into the clearing by the playground as I reach my family. Jason with his red hightops is lifeless, the only one still alive is Jamie but there is so much blood and she is so cold. I can't help Jamie and while I hold her small, small hand she dies and leaves me alone in this world.
I wake up and I am back in the mental hospital and it is spring. The sun is out and there isn't a cloud in the sky and I think it's a perfect day for a picnic in the park but I am alone and there is no one to play and dance with in the park. I cannot play dolls with Jamie and play Hide and seek with Jason. Mom and Dad will not be there setting up our lunch.
I am with my family today and we are in the car heading to the park. Mom and Dad are holding hands in the front seat. Jamie is holding her doll while Jason is wearing his favorite red hightops next to me in the back seat. The sun is out and we can't wait to have fun in the park.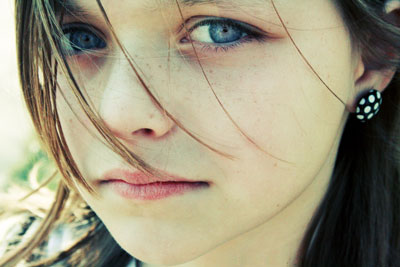 © Felicia R., Arlington Heights, IL