Coming from Nowhere
November 1, 2011
He stood in front of the elderly woman, staring at her wrinkled face that resembled dark brown, cracked leather. He was still breathing hard from the run, and a thick layer of dust covered his features. He tried not to cough as the elderly woman opened her mouth. He expected her to speak first, but all she offered was an irritated huff.

The elderly woman leaned on her dark, oak cane and stared at the boy in front of her, taking in his dirty and rugged appearance. Her eyes darted towards her clean home, and back towards the homeless boy. She waited for him to speak first, allowing the awkward silence to stretch on endlessly.

"Uh, hi, uh, ma'am." The boy said, hesitating before adding the last part. He was unsure of how to treat this lady. She was the first one to ever offer him comfort and safety, and now he seemed to be unappreciative of her help.

"Hello, son." She responded, her voice thick as she laid her left hand over her right one on the cane. "Where in the world have you been?"

The boy looked down, fingering his dirty trousers. "Nowhere." He mumbled softly.

The small, elderly lady nodded; she seemed to understand. The boy gained a little bit of confidence as she smiled to him.

But just as quickly, her smile became a terrible frown. "Then I guess you're gonna go back to nowhere, cause you ain't sleepin' in my house tonight!" She smacked him on the head with her hand and turned toward her house.

"Da boy, misses dinna and think Imma let 'im sleep 'ere! Comes back lookin like he came from God knows where! Then he says me he's been nowhere," She turned around and waved her cane angrily at the boy, who stood holding his cheek in amazement. "Ya oughtta be ashamed of yourself, boy!" The old lady's furious mumblings continued as she flipped around and the screen-door smacked against the door frame.

The boy stood silent, his eyes wide open and his mouth slightly ajar. He shook his head and stood in the yard another moment before he slowly walked towards the gate. He turned back once more, sadness nestling deep in his soul as he thought of the cold streets and dirty newspapers he would use for a bed that night.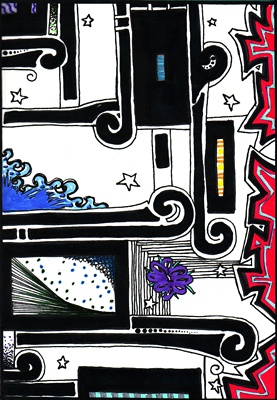 © Jessica D., Burke, VA