Half Hearts
October 29, 2011
What was I supposed to do!? Run and hide somewhere just to cry myself into exhaustion. Was I supposed to hold my head high and take control of the situation? I could always go up to them and call him out in front of all these people, but wouldn't that make me look just as foolish? I was stuck in neutral with a million thoughts running through my head and all eyes were on me.
I felt so defeated, and broken. I was almost sick to my stomach. How could someone who I've spent so much time with just throw me aside like a dirty towel? Yeah that's how I felt that night, like a used, soggy towel that had fallen out of the laundry basket and pushed under a dark dusty bed. No wait, that's an understatement, I felt like my heart was just ripped out of my chest and fed to a pack of wolves. And everyone just looked at me with their eyes wide and on their toes in anticipation. What was I supposed to do; I ask myself that question every time I think about that night.
What did people expect from me and who really cared what I did and how I did it? Was it anyone's business to begin with? I mean I guess at this point, everyone watching the football game would soon learn the truth. I'm not sure what came over me. Maybe it was pure anger and rage. What would you do if you saw your boyfriend of two years cheating on you, literally 20 feet away? And to make matters worse you were carrying his child. It's a shame he didn't know. I never thought he would find out the way he did either, along with the other 200 people watching.
So there I was, heart beating a million times per minute, and my eyes filling with tears. I walked right up to Jeremy and pushed him off of the wh*** he was locking lips with. After shoving him into the fence,i had him pinned. A few people saw this and eventually everyone was watching. At that moment nothing fazed me. I was on an adrenaline rush and I let him have it. Cursing in every other sentence, I screamed and cried out loud. I constantly asked how he could do this to me? And why I thought I ever trusted him. He barely had time to say anything, and if he did, I didn't hear him because I was yelling so loudly. He was in shock, and way too overwhelmed to make words into sentences; I slapped him once or maybe twice, it's kind of a blur.
Before I knew it, I had strong arms squeezing me tightly around my stomach. I was being pulled away by a state trooper. He was telling me something, maybe to calm down or to stop moving but I didn't care. When he used the strength in his legs to lift me up, he swung me around and threw me into the fence. Screaming with fear I blurted out "you're hurting me! Your hurting my baby!, owe my stomach, my baby!" I was surprised that the cop didn't ease up on me. The recitation from everyone else was pure shock. I had got my body around enough to see Jeremy's face before my hands were hands cuffed behind my back. His eyes were full of tears, and his face was bright red. I stared at him with the same look of distress. I mouthed the word "sorry" and he just shook his head in disbelief. His eyes brows were frowning at me and all he said was "your pregnant?" he didn't yell it, he didn't even flip out. He just asked me, almost in a whisper. Tears were pouring down my cheeks, and my body was shaking. Everything was so blurry and the cold metal of the hand cuff were slightly cutting my wrists. Within minutes the cop had pulled me by the arm to the back of the parking lot.
But you know the thing I'll never forget about that night, the girl who was with Jeremy… the one who had ran off. She left something on the ground that was very familiar. I spotted it when I was being forced into the fence. It probably had fallen off of her when she was all over my boyfriend. Lying in the dirt was a charm bracelet, with a half heart, and a few beads. I caught a glimpse of the writing on the tiny silver heart to find that it had said "sisters…" I looked down at my own wrist, and saw the same charm bracelet with a half heart; I slid my finger over the imprinted letters that read "for life".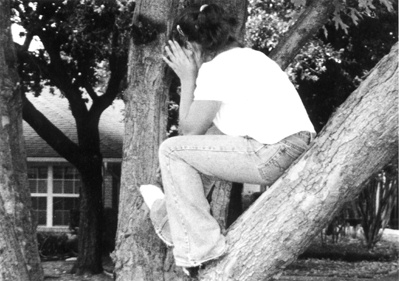 © Allyson S., Highland Village, TX