That Summer with Brea Lovett
October 26, 2011
I had a friend once. A long time ago. She was vibrant and mysterious. The kind of girl who lit up anyone's mood; the kind of girl everyone wanted to be. She wore scoop-necked Abercrombie t-shirts everyday with a pair of Sperry's on her feet. She always had a pack of Trident 3-layered gum in her right pocket. Her auburn hair was always scrunched with Aussie muse and accented with two black barrettes that pulled her side bangs back. Her spunky and creative attitude always inspired me that I could do whatever I wanted to. Her name was Brea Lovett.
That same smile was plastered on her sun kissed, lightly freckled face. Her luminescent green eyes were pools of life, luring you in with one gaze. She was absolutely stunning in every speck. I met Brea in the summer before my junior year in high school while trying to get my license at the DMV. Waiting on my instructor to arrive, I sat in a cold, plastic chair across from Brea.
"First time?" she uttered so plainly; as if she'd known me forever.
"Uh, no actually," I muttered, "I took it last Thursday on my birthday but failed because I was doing 60 in a 55."
"No way, I did the exact same thing!" She exclaimed practically jumping in my lap. From that moment on I realized that my poor, solemn life had become something adventurous: something worth living for. Through the elongated heat of the summer, a friendship was born.
Brea noticed from the start that I was not well liked. As a straight A nerd and president of both the math and science clubs, I struggled to walk through the glass double doors leading into school. The constant degrading that my fellow peers would unleash upon me was unbearable. My life was a constant cycle of waking up, getting utterly beaten down by criticism, and going to sleep. The melancholy in my eyes made them sag, creating purple bags under their hazel shine. Sleep deprivation and depression were my usual daily basis. Pain had always been the first word in my vocabulary.
Over the long days, we would spend hours toppled over hours talking about boys, money, and clothes. I'd spend weeks at a time at her house and she'd spend even longer at mine. We'd always do something stupid to get into trouble like egging our pre-cal teacher's house or hanging out the window of her Mustang at midnight, barking like wild dogs. For the first time, I felt accepted. I felt welcomed. I felt loved.
One day in particular Brea managed to get inside of my head.
"Jenna, you know it's not good right?" she said with such a wide, serious face. We were by the pool at her house sipping on her mother's bottles of grape Smirnoff. I giggled at her stupid, drunk facial expression but realized that she was serious.
"What are you talking about?
"Your arm-it's not good you know."
"My arm? Oh….oh." I knew exactly what she was talking about. How did she know? I tried my hardest to make only slight nicks into my olive skin. I even covered them up with layers of makeup and skin-colored Band-Aids. We silently sat in her wicker lawn chairs downing the rest of our drinks. Her brother was the only one home so we knew we wouldn't get caught drinking. Still silent, I began twisting and turning inside. Like I was nervous or something. My heart pounded against my tiny frame, showing with each thud against my ribs. Beads of sweat started pouring from my sunburned forehead and I began hyperventilating. Finally with so much pressure built inside, I got up from the chair and dove into the refreshing chlorine water of the pool. Under the crisp blue water, my arm instantly started producing a burning sensation. From my wrist to the middle of my forearm, small fires began to ignite and engulfed my entire arm in painful flames. I opened my mouth to scream, but only emphatic bubbles surrounded my head leaving me out of air and forcing me to swim to the surface to submit to Brea's worry. I obediently surfaced and took a gasp of fresh air while holding on to the cement for support
"Impressive. A whole four minutes under water." She said sarcastically joking while cross-legged on the pavement. She never talked about my arm again. I never cut my arm again.
When school started back up, I expected my life to be so much better. I expected to be accepted. I expected to be welcomed. I expected to be loved. I was so thrilled to begin my new life. That was until the first day of school.
I had called Brea at least ten times but there was always a message saying that her number was nonexistent. Brea always answered her phone and she was always prompt and punctual when she had to be somewhere. Frantically, knowing I would be late for my first class, I put my Honda Accord in drive and sped to her house which was twenty-five minutes away. I pulled into her graveled driveway, parked, and sprinted up the brick steps. I rang the white button of the doorbell fifty times shouting her name but no answer. After I realized the door was unlocked, I busted into the Lovett's house only to be deceived by the very eyes that had once been filled with the summer laughter I had grown accustomed to.
Nothing. Not a thing was in the house. The hardwood floors were completely empty, shining in their waxy glory in the shine of the morning rays. Panting, I looked around even more. The cabinets were empty- not a crumb or wrapper was in sight. The granite counter tops were completely smooth with not a speckle of juice or smudge of chocolate on them. I found myself wandering, mouth gaped, to the staircase and up I went. I came to Brea's room astonished by the sight. Her magenta walls had become a ghastly shade of ecru accented with white drapes and the same empty, shimmering hardwood floors that mocked me with their shrewd, sparkling smiles. Numbed to the core, I wandered back down stairs, out the door, and into my Honda. I drove back to school, now an hour late. A thought came over me to check the front office for her files. I ran through the lunch entrance and blindly found my way through the empty hallways (as everyone was in class at this point) to the office.
"Mrs. Kittrell," I gasped as I swung open the glass door, "Brea, Brea Lovett. Is she still enrolled here?" She was on the phone on a business call so she held up her index finger to shush me as she rummaged through a bin. Still talking, her wizened forehead began to crinkle and her lips began to purse. After twenty minutes of searching, she finally hung the phone up and checked her computer. Another phone call later while sitting in her revolving, leather chair and she turned to me.
"Honey I'm afraid there's no one here by that name. There has never been a Lovett in this school and this old thing's been here since God knows how long. Say, ain't you supposed to be in class?" Mrs. Kittrell's deep southern accent was poisoned by the words of insanity. Her old and raspy voice pinched the very words she barked out and pierced my ears with a deafening roar. Unbelievable. I stormed out of the office.
I checked out of school early that day to check other parts of the town. I checked hospital records, bank accounts, and even police reports. Nothing with Brea's name appeared in anything. She was nonexistent. She was…imaginary. Not even my parents knew what I was talking about. I showed them pages filled with memories in my diary. But all they saw were blank pages. I forced handfuls of pictures in their hands. But all they saw were white rectangles of glossy paper. I kept arguing with them, recollecting my entire summer down to every last point. After my rants and raves for another three weeks, my mother decided to sign me up with a teen therapist. Even the therapist thought I was insane, so in addition, I went to the hospital regularly for more detailed consultations of my problems. Truth be told, even though I wasn't sent to an asylum, I was living in one. The whole world had become my bloodthirsty, mocking asylum.
~ ~ ~
To this day, I have no idea what happened to Brea. Whether she was indeed a figure of my imagination, I will never know. Whether she was real with a heartbeat and a dream, I am clueless. I can, however, say that I have never again felt the same liveliness in myself since that summer before my junior year.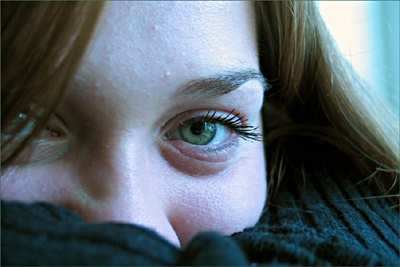 © Andrew M., Belleville, ON, Canada