The House on Fire
October 4, 2011
I've never understood why people remember things the way they do. I can talk all about a random Saturday afternoon when I was three—we went to Rubio's for fish tacos and I dropped my churro in the sand. But I can't for the life of me remember the day our house caught fire and burned down. Apparently, my mom left the stove on before we went to a holiday party and when we came back, there was nothing but a soot-blackened skeleton of a building. Everyone thought we would be devastated, everyone expected me to cry. I didn't. I thought it was the greatest thing ever and got in the way of the firefighters and insurance people and curious neighbors. I was so excited by the bizarre sequence of events everyone was slightly worried I was going to start burning their houses down. I wish I remembered this because the memory always made my dad rattle with laughter, bittersweet and matter-of-fact, but I can't at all.

It's the same way now. I'm struggling to hold onto her voice, her laugh, her smile. I only have a wisp of what she sounded like, and it's only because of photographs that I remember her face. And I'm scared. Terrified that she'll be forgotten in another few months. It always took me so long to get my classmates' names at the start of a new school year, and they always slipped away over the summer. What if the same thing happens to her? What if I wake up one morning and discover I've forgotten my sister's name?
I can't go to a nursing home without wanting to throw up. The places are riddled with Alzheimer's-addled, 90-year-old women who still remember what their husbands' favorite meals were, even though they've been dead fifty years. And they'll laugh in that clucking way old ladies do, their memories damaged and frazzled but still pure. I've had to stop volunteering because I can't stand it. I should remember her like they remember their loved ones. I should know whether Chelsea liked chocolate ice cream or vanilla, whether she preferred dramas or comedies or if she liked Mountain Dew, same as me. Dead six months, and her cold-hearted, moronic sister has already moved on and forgotten about her, they'll say.
I roll over and try to sleep, but sleep eludes me. It's late, past midnight. I can see the blue-black sky and the swirls of startlingly green cloud outside my window. Large, pale squares of moonlight are spackling my pillow. It's the kind of night Chelsea and I would talk about, the kind of night we would dream of running away into. I swing my feet over the side of my bed and just sit for a moment, acknowledging the creakiness of 2 A.M. limbs, then pull myself out of bed and cram my feet into my shoes. I grab my keys and head outside. Our old address is still written in my mom's contact information book, scribbled out to make room for the new one. I'm surprised to find that it's really not too far from here.
The idea takes hold and sprouts—there's plenty of time.
I stumble outside. This is the kind of thing I never did. Thought about, sure—I thought all about sneaking out and dying my hair purple in my friend's bath tub and smoking under the bleachers and watching old movies in a boy's car when I was supposed to be studying. I dreamt about the time when I would do these things, when all my flaws would melt away and I would be free. I wait for life to come to me, because time is the one thing I have. Time to spare before I have to start worrying about life passing me by. Time, the one thing Chelsea thought she had.
I drive alone, maybe half an hour. Just sitting with my thoughts in the little sundried tomato-colored car, foot on the accelerator. I don't know what I'm looking for, or what I'm expecting to find. I need to get there, though. To prove I can.
Standing in the middle of a tolerably well-manicured lot is a tall and pale blue house, with a cream-colored door and glossy windows. Nothing like our squat home, the color of a baked squash, with the window I accidentally broke and the door we painted the reddest red we could find.

My house burned down. My sister died. I played in the house. I loved my sister. Everything is exactly as it should be. And sitting here, staring at this strange house I've never seen before, I don't care if I can't remember. Because here is solid, irrefutable proof that the house burned down.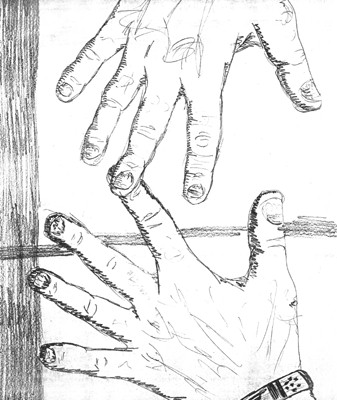 © Katie T., Hull, MA