Moving On
October 8, 2011
" Don't do it" Jay choked desperately on the words as he grabbed my wrist, hoping to pull me away from the decision that would end our relationship forever.

I didn't respond. I had nothing left to say. I continued to remain turned away from him, maintaining my focus on breathing, something I felt I could no longer do in this treacherous attempt at a relationship.

I've heard his pleas too many times before, begging me to stay, promising me that he'd change; And over and over again I would believe him, falsely convincing myself that maybe, just maybe this time he really would. Cut him some slack, it used to be so good, he's really a good guy, my mind would come up with a million phony reasons to accept his artificial apologies, only to give in and relive this never-ending cycle of turmoil.

The deep bellow of a horn echoed in the brisk November air. The sound grew louder until a sudden breeze tossed my hair back and fluttered with my black and white checkered scarf as the train came to a slow. As the train made its final halt, the doors viciously squealed open. I shook Jay's hand off me, pretending not to have taken notice as his arm retrieved limply back to his side. I blocked the mental image of his expression from my mind, knowing that if I had looked back I was vulnerable to fall into the mess all over again. My voice sounded foreign to me as I mumbled the last two words that would mark the ending of our life together forever: "Goodbye, Jay." And with that I stepped onto the train with the full knowledge that I was headed towards an entirely new phase of my life.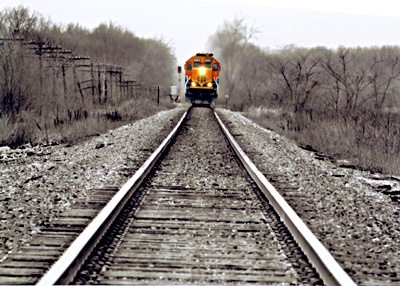 © Matt D., St Peters, MO