Insomniac
October 7, 2011
The room was dark and warm, like the inside of a sealed jar, and sweat dripped off her brow as she tossed and turned roughly in the comfort of the thick woven blanket that enveloped her body in soft cloth. She took deep, quivering breaths, gasping for air, but in the process, her throat had seemed to close up and she began to choke, the roof of her mouth stinging as though stung by a bee, and between her lips she could taste a thin sheet of crimson blood that, when she reached to wipe it off, wasn't there.


She shut her eyes firmly, trying desperately to send her mind to a world of serenity, but the mysterious voices in the back of her head, and the shattering glass and shouts from the other side of her door kept her wide awake.

The night had seemed to drag on for an eternity, the sun refusing to rise from the darkness, but eventually, its bright rays peeked up over the horizon and shine through the dark curtains that veiled the windows. She shifted constantly for hours, coughing hoarsely and sweating bullets, choking, the taste of the blood flooded her mouth, but only a single droplet made its way onto the fabric of the pillow.


The morning had seemed to arrive finally, and quickly disappeared behind the gray clouds that cloaked the light, and she had seemed to lay in bed for forever, waiting for the sun to once again peek out from between the clouds and dip back down past the horizon.

The screams and shouts from afar grew louder, more chaotic, and she finally rose to her feet, tossing off the knitted blanket that wove around her like a complex croquet pattern. The door groaned as it slowly opened, and before she could be seen, she snuck down the hall slyly, into the bathroom.

It was a small room, with a single shower and a single sink, a single toilet and single garbage can. When she turned to look in the mirror, she winced at the sight of her pallid face, which seemed quite haggard under the fluorescent light of the room. She didn't look the same as before.

She knew what was to come next.

Slowly, she slipped the small blade from the pocket of her shorts, and pressed it against her wrist. The lush crimson bloomed through her pale skin and grew larger and larger as she watched from above, swooned by the perfectly straight line, noting how large the bubble could grow before it would burst.

The room seemed to slide sideways, then righted itself again as the ribbon of blood slowly unfurled itself onto the cold, unforgiving ceramic tiles without a sound. She watched in astonishment, and she felt sated, then exhausted.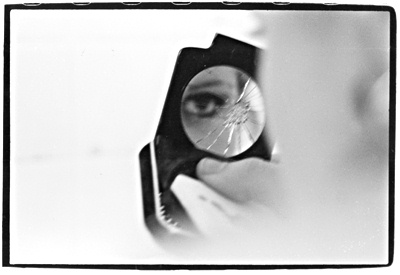 © Heather W., No., Brunswick, NJ