Finding Ella
September 27, 2011
"It's such a strange feeling when the realization arises that everything is not as it seemed to you." Ella truly thought everything was perfect. She was doing what she always did; getting good grades, some sports, and hanging out with friends on the side. She thought that after a few mistakes and bad choices, she had finally come into her own. She felt comfortable, confident, and relatively happy. Or that's what she thought at the time. "My parents, over the summer, continued to tell me that I should start writing again, writing poetry specifically. Or go running. That maybe I should keep a journal or something. Or do something that I really loved." But Ella had ignored them, feeling that she, in fact, was "fine" and that "they worried too much." Thus a sudden revelation came as a shock to her when Ella and her parents met with her college counselor for the first time.

It was a Friday evening. The sun was warm, and a slight evening breeze blew outside. Small families strolled along the pavement of the Lafayette streets, following their young running children; and elderly couples ambled slowly by the chic restaurant patios, holding hands. Ella and her parents sat in the waiting room of Lafayette Academy. Her father held his head down, deep in thought, and busily checking his emails from his bio-stat students on his blackberry, while her mother looked around the room intently, watching the clock, as each minute passed.

Meanwhile, Ella glanced out the window every now and then, longingly, for she would much rather be outside, perhaps having dinner with her friends, than meet with her college counselor on a Friday night. However, Ella was not uninterested in such a meeting; in fact, she was excited: college and the freedom that came with it had been on her mind for a while. Since her ninth birthday, Ella had always vowed she would go the University of California, Berkeley, and strive to achieve the perfect grades. But now, at sixteen years old, she wasn't sure what she wanted in a college anymore. "I'm not sure what I want. The high pressure on perfect grades, A's, the pressure to go to a great college, good SAT scores, and trying to juggle all of this with friends and social life, and still manage to enjoy everything?…It's all so overwhelming," she had said.

Kathy Bressler walked out of her office and turned her head to find the family waiting. "Hi, I'm Kathy Bressler, your college counselor. Do you want some water or anything? It's so hot today. Come on in." Ms. Bressler appeared to be of an average height; her short cropped brown hair framed her face and her large timid brown eyes. She wore a small purple suit and silver earrings. As she took her seat, she smiled up at the three new individuals sitting before her: "So, let's begin."

And so, Ms. Bressler began speaking quietly about her four daughters, and why she began college counseling for high school students. "..My first daughter ended up going to a very large college, down in the east coast. I had told her she would probably be far happier in a perhaps, smaller college? But, as a typical teenager, she didn't listen to her mom. And after about half a year at Tufts, my daughter called me up, and announced that she wanted a transfer, and that she "didn't like it here." So, off she went to another college the next semester. But this got me thinking about my other daughters, who would go off to college in a little while. That's why I started doing this, college counseling, and working with teens. I want to make sure they are happy where they are, and happy with themselves. I really want my students to enjoy their life and be truly happy."

Ella listened, and nodded; she would peek at the clock to check the time every now and then, waiting for the next five minutes to pass. Ms. Bressler continued on, "What's most important in a college? First, your GPA. That's major. Second, your SAT scores. Also, very important. And thirdly, some extracurricular stuff, hobbies, passions, etc. an organization you've started…" At that, Ella would look up, with a small flash of panic, and begin to wander through a series of uncontrollable thoughts: Is my GPA good enough? How am I going to get high scores on my SAT?

"..And now, Ella, can I ask you a few questions?" she asked intently, with a gentle smile. Ella replied "yes, of course!" and smiled as well, masking her panic for the moment.

Ms Bressler asked a series of rather simple questions: What do you do in your free time? Extracurriculars? What did you do over the summer? What are your hobbies? However, Ella seemed to have trouble answering them. "I was surprised by how little I had to say. I liked writing, and reading, and I had played some sports. But I didn't have anything special to talk about. When she asked what I'd done over the summer, all I could utter was that I'd spent a lot of time with friends, gone on a camping trip, and read Honors English books. As she wrote all this down, I couldn't help wondering what she was thinking about me."

When the meeting finally ended, Ella swiftly left the building, dismal and confused, hiding her tears. Was she boring? How could it be that she truly had nothing interesting to say? Ella suddenly realized that her life was not how it should be. Over the years, Ella knew she had started reading less, and writing less, two things she used to love. Over sophomore year, she had fallen out of place; she had made choices that weren't necessarily considered good, and her grades had even faltered a little bit. Her motivation in school had diminished; "I just need to get an A. That's how I thought about school." She had said. She stopped playing soccer, a sport she had played well since she was ten years old, and piano. Her life was somewhat devoid of passion, a true hobby. She was lost. Ella had lost the joy in the simpler things and had lost touch with what truly mattered: the greatness of learning new things/education, the beauty of passion and inspiration in a person's life; the meaning of true happiness. She was simply struggling to find herself again, amid all pressures and obstacles.

Thus, as Ella drove her parents home that night, she decided she had to take action in order to uncover the true Ella once again; a girl fulfilled with fervor, excitement, a love of public speaking and literature; a girl who stood for what she believed in and upheld her values; purely, a girl who loved what she was doing in her life. Thereby, in the next month, Ella began to divulge in her passions, writing and teaching. She entered her poems and short stories into writing contests, and acquired a volunteer job as a tutor/teacher at Contra Costa Interfaith, a small organization in which children of homeless or formerly homeless families obtain help with homework and school. "There is nothing compared to the joy you feel when you see the loving, lit up faces of the kids when I arrive, and when I tutor them. It's amazing," said Ella.

Though Ella realizes her journey of self exploration and discovery is far from over, she feels that she has found a new perspective on life; one that focuses on hard work, happiness, and zeal in everything she does, and everything she loves.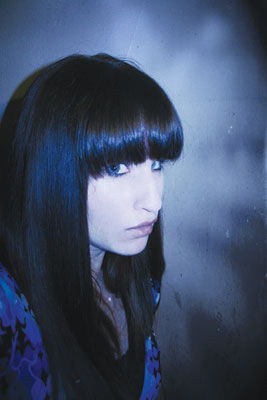 © Monica L., St. George, UT