Golden Wedding Rings
September 12, 2011
The sunset fills the tiny airplane window with an array of reds and yellows. Tints of amber bury themselves amongst the clouds as the sun itself sinks further below the horizon. It glows in my eyes, dragging my attention to it, making me unable to look away. Hardly any where is there something this beautiful. My fingers trace designs on the glass, fingertips become so cold, I pull them back, burying them in my pockets. I sigh and lay my head back, wondering once again if I've made the right decision. Every moment, every fight and angry word said replays through my head like a broken melody. My mom's eyes brimming with tears appears every time I close my eyes, haunting me. Could it have been only a week ago I was sitting on the phone in tears with my dad? That was the first time I'd broached the subject I'd been thinking of for months. An idea had spawned of escaping it all, it was a simple cross country move. The tears cradled in the corners of her eyes, the only time my mother had shown her desire for me to stay made me wonder for just a moment. Did I make the right decision?

Sighing, I bend down to rummage through my backpack. It has almost everything in it, minus a suitcase stored below, my entire life is in this tiny bag. All my books and photographs, even an old teddy bear, all hidden away in this shadows of these pockets now. Grabbing my sketchpad, I sit up and flip down the tray table in a clumsy movement. There is never space on airplanes to do anything. I spare an apologetic glance at my neighbor, a haggard looking man just barely asleep. Hopefully this wont wake him for the circles under his eyes scream of a need of sleep. I take a minute, my eyes glancing over him, guessing his life, making him up a fairy tale. I give him a wife, two little girls and a son on the way that he can play baseball with. Maybe a medium paying job, just a little bit of struggle, but they'd have a good life. I get caught in the moment pretending to be one of those girls with this dad and imaginary mom, a member of a loving family who eats dinner together every night. I shake my head, expelling all those thoughts straight out my ears, letting them drip and pool on the airplane floor. I leave the man alone to create his own fairy tale life, that I will never be a daughter in and turn back towards the blank paper now resting before me. Its blank spaces stare teasingly at me, daring me to deface their purity. Twisting the pencil back and forth, I bite my lip, unsure of what to draw. Ideas flash through my mind, coming up with this thing and that.

In the end though. I let my heart take control. Its puppet strings taking hold of the pencil and sketching a couple in love. I draw their bodies intertwined in an affectionate embrace, the man's arms gently holding her to his chest. I leave their faces empty as I work down the bodies, pausing only to change the song on my Ipod. With the music running through my veins I let go, becoming a third person watching my emotions draw. Carefully I draw in minuscule wedding bands on their fingers, a fitting homage to my dreams and memories. Wedding rings decorate the backs of my eyelids as I sigh close my eyes. I can see myself as an 6 year old in my dad's bathroom playing with his keys talking to him about the wonders of the world as only a six year old can. The numerous keys were separated by a single gold band, I slip my fingers through it marveling at how big it is.

"It's a wedding ring." my father told me simply. He explained how he and my mom had been married, but they weren't happy. Why hadn't they been happy is a question that has always gone unanswered. They had gotten divorced, wait what did that word mean? I said it a few times for it didn't fit in my mouth, always slipping through my two front teeth. Curiosity killed the cat didn't it?

The words tumbled out of my mouth, asking "what's this?" and "what's that?". They were truly just begging for a definition of something I didn't understand, not even to this day, almost ten years later. This word, now on a thousand cheating man's minds, why had it once been on my father's? Or maybe even my mother's? As that young child, I saw in the bathroom mirror, my eyes slowly drain of wonder. This gold ring, this plaything wasn't fun any more.

I open my eyes, blocking out that memory, locking it away behind chains and bars. I didn't want to think about golden rings any more or the way things could have been, if that word had never been said. There had been a possibility, a glimpse of a future in a second of my mind, where we had been a family. Not the broken one we were now, but one that sat down for dinner together, eating and laughing every night, with wedding bands glistening under the light. A future where I wasn't on a plane flying away from home to another pretend doll house, going through the motions, yet never really living. That fantasy, that impossibility I had once created would never become reality. I drew it into the picture before me, tracing my parent's faces into those blank ones. Not the faces they wore nowadays, no, they ones they had worn once upon a time before I was born.

The loudspeaker came on, announcing our descent into my new home, some place where hopefully imaginations might come true. The typical instructions of putting your seat and tray table back forced me to do so, but before putting things away, I glanced back at my new drawing. The people drawn together as if one, a flower of love and lead to bloom evermore. I tore it out without a second thought. A new place deserved a fresh start, time to let go of the demons and memories of the past. The only way that I could be happy was it if I let go of unreachable dreams. Folding the sheet, I seal it with a kiss, and shove it into the seat pocket in front of me as the plane begins to land.

A flight attendant might find it or another teenage passenger like myself. Their hands would unfold it with thoughts of curiosity, never knowing its true meaning. All they would see is a man and a woman in love, arms intertwined about one another and smiles painted across their faces. They would never guess the past behind it or the six year old hurt by it all.

As I stood and walked away, everything seemed a little lighter. Looking back, I waved at the little girl sitting in my spot, smiling at some golden ring.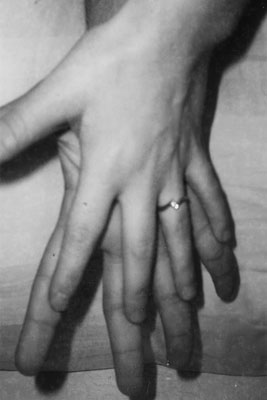 © Heather H., Phoenix, AZ