Bundle of Joy
September 2, 2011
The paramedics reeled her in, closing the white wooden door behind. I followed after her in daze before getting snapped back to the reality by a snotty looking, overly dressed nurse.

"Stay put Mister." she claimed in a raspy voice. It had all happened so quickly for my semi-conscious mind to soak it all in. I found her on the sofa, moaning with pain at 4:53 AM; when my thirst for water woke me up. The rest is still a bit foggy to me.

All i seem to clearly remember is her pain struck face as i carried her in the car and drove towards the nearest hospital.

The blue, empty seats aligned with the wall looked cold. They failed to merge with the pale yellow walls of the hospital. But as my legs gave up the weight of my body and i thumped down in one of them. As soon as i did, red light flickered on top of the operation theater. All my life i have had this red color phobia. It symbolizes danger, alarm and h*ll to me. Not a comforting sight. With mere unease I looked down at the dirty marbled floor, swallowed my dry saliva and crossed my legs.

The pungent smell of Dettol stretched my nose, as i now concentrated on only inhaling and exhaling. The wide cracks on the tiles and empty hallway discomforted me. I thought of calling my mother. Hoping she might be awake for the Fajr prayers. With swift finger movement, i dialed up her number.

When she picked up on the forth ring, she right away knew something was wrong.

"I'll be right there Hassan." Was all she said.

Relief washed over me when i saw a familiar figure hurrying towards me. With Quran and Tasbeeh in either hand, mother swiftly walked towards me and embraced me in her loving arms. All the emotions that i had bottled up inside me for the past hour came rushing out like a flooded river. But her soothing words comforted me and made me realize that I wasn't alone.

It wasn't long before a nurse dressed in white attire, walked past us carrying a tray full of silver surgical instruments. With hands turning to ice, Dr. Hashmi's sympathetic voice echoed in my ears.

"It has turned to a complicated case."

I remember the night we laid on opposite sides of the bed, replaying the conversation we had with the doctor. Her strong faith in God, made her almost oblivious to the danger doctor had told us. We played the name game the following night. She liked Malaika better than Natasha and I was determined on Ahmed being the best fit. Unaware of the new being's gender, we both shopped for green clothes and unisex toys. Green was her favorite color.

Her twinkling eyes shaded my vision, as streams of perspiration ran down my forehead. I unbutton the top two buttons of my checked shirt and sulked down the chair, tapping my feet besides the tilled floor. The minute hand of the clock crawled slowly by as my mother's tasbeeh beads ticked loudly against each other in the empty hall.

Restlessness took over me as I now kept shuffling from on position to the next.

Soon the large tinted doors opened, revealing Dr. Hashmi. It was mind boggling how my legs were able to withstand the weight of my body under such circumstances as I got up with a jolt. All kinds of thoughts now took over. I couldn't read Dr. Hashmi's poker face.

"Congratulations Mr. Hassan. It's a girl. Your wife is fine too, she will be shifted to the room so you can meet her." He said with a toothy smile, patting me on the back with his large hands.

The nurse followed him, carrying a red faced bundle wrapped in white cloth. She handed it over to me, as I extended my shaking hands towards it. My mother offered her assistance to me, and placed her hand under the red head; unsure I might just drop it by the slightest of movement.

Happiness was unknown to me before this surreal moment. I looked down at her porcelain face with tears in my eyes. I glanced at my mother's crying face, and then back at my daughter in my arms. She looked so peaceful, so pretty, so like her mother.

"Malaika" I whispered.

I brought my lips close to her tiny forehead and planted a kiss. I felt her miniature body, squirm in my hands. I looked at her and I knew that this was the start of a beautiful beginning.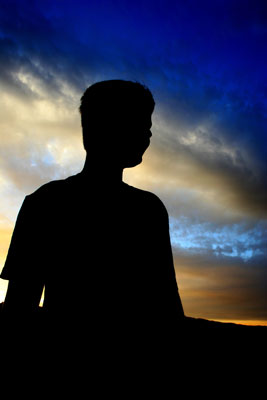 © Monica L., St. George, UT