Nikki
September 6, 2011
As I forced my eyelids open I felt a tinge of nervousness, it was my first day at high school. I slowly rose and placed my feet into my comfy slippers, wriggling my toes. Not having a uniform felt awkward since my whole life there was always something laid out for me to wear. As I saw a glimpse of the school bus coming I quickly grabbed my bag and left the front door swinging.
Crawford High School was a stately building from the outside; however, its inside was a different story. Graffiti everywhere, broken down lockers and geeks busy on their laptops. I peered around nervously clutching my books…
Suddenly, out of nowhere came a girl. She was gorgeous with chocolate, brown hair flowing down her shoulders, flawless skin and emerald eyes. I stared at her with fascination as she walked down the hallway. Boys hooted, girls whispered words of envy and it felt everything and everyone had just paused in her presence.
During my English lesson my attention was focussed on Nikki Collins, the same girl who had mesmerized me in the hallway. She seemed so perfect! Yet, there was an air of vulnerability about her. I wanted to get to know her and maybe one day become her friend.
I had never thought I would do this on my first day but I just couldn't resist following her. She seemed to be in a hurry and I had to struggle to keep pace with her. She moved into a rough neighbourhood and entered a rusty, filthy looking motorhome. For a second I couldn't believe my eyes. Nikki Collins lived in this trash box!
Out of curiosity I peered through the clouded window and suddenly the door burst open. "Can I help you?" snapped Nikki. For a second I was paralyzed.
"Um, are you Nikki Collins? From Crawford, is this where you live?" I stammered. Abruptly her calm expression changed into panic.
"You go to Crawford? I can explain. Just don't tell anyone, please!" she practically screamed. Suddenly I heard a heavy, grumpy voice.
"Nikki, who's there? I told you not to ever answer the door without my permission! Now get inside before I kick you." A middle-aged man with a stubble and unkempt hair pulled Nikki inside. Frightened, I fled the scene.
The following afternoon I found Nikki sitting alone. I sat down next to her and gave her a comforting smile. I held her hand but she didn't resist and I knew she trusted me. Over the next couple of days we talked and shared and then one day while walking back from school she told me everything…
I couldn't sleep that night. The thought of Nikki suffering at the hands of her father made me sick. She had been abused ever since her mother had died. I knew that I had to help her!
It took a while to convince Nikki to come live with me until we could contact her aunt. I cleared up the dusty attic and set up a make-shift bed with a few essentials. The plan was to sneak Nikki into the attic after school without my parents knowing.
As planned Nikki moved into the attic and I became an expert at sneaking food for her. We managed to contact her aunt who assured us that she would come soon. That night I slept peacefully until I heard screaming sirens and the doorbell ringing furiously. I ran downstairs like the wind. What I saw literally took my wind away!

There stood Nikki's father with a troop of grim looking policemen. "Are you Alice Madison?" said an intimidating policeman. Before I could say anything my mom stepped forward.
"Yes she is. And may I ask what you are doing here?" she inquired.
"This gentleman," said the burly policeman pointing to Nikki's father, "has made a complaint that his daughter, Nikki Collins is missing and your daughter has helped her abscond."
"This is unbelievable! There's no Nikki living here. If you don't believe us you can search the house!" exclaimed mom with outrage. The policemen started searching the house. I quietly slipped past the action, moved Nikki into our old shed and hid her under a few bags of manure. After an hour of searching the policemen finally left along with Nikki's father. Later, my parents asked me what was going on and I told them everything. They agreed to help.
My dad called Nikki's aunt and finally one morning she arrived. It was time to bid farewell, I hadn't realize how close we had become. It hurt but I knew it was for the best, Nikki's nightmare was finally over. She was moving to Mexico.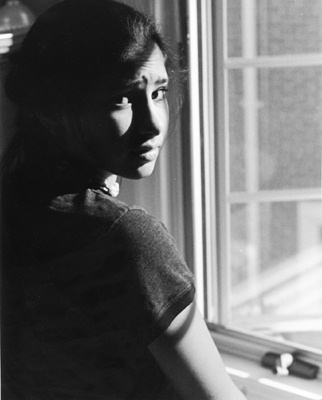 © Jennifer H., Bethesda, MD