Ice Pops
August 29, 2011
1943. That's the year. The sun is shining and the vibrant green grass calls to us. A chipped red bench holds all of our backpacks, and the hummingbirds watch over them. We smell of fruity ice pops and cupcake-scented hand sanitizer.



I glance over at Debra. She grins at me. She's gorgeous, the black ringlets framing her face. On my other side is Len. He's tall, lean, and handsome, and it'd be a crime for someone like me not to be in love with him. I adore him. I grab their hands and I just want to take this moment in time and freeze it. I want to stay at the meadow forever. Just standing here, with Len, Debra, the birds, the sun. They're all I need.



I let go of their hands and lose all regard for my dress, my hair, my manners. I tumble forward and roll down the hill of grass. The whole world is spinning around me and I'm surrounded by the smells of grass and springtime. I feel like I'm five again, without a care in the world. Debra, Len, and I—we're all going our separate ways tomorrow. But right now, all of this is forgotten. This bed of grass is home.



We lie sprawled on the floor for what seems to be hours. Debra's laughing. So is Len. And I am, too. I don't know what's so funny, but I haven't laughed this hard in my life. I try a couple times to stand up, but the attempts are futile. Len finally pulls himself up, staggers towards me and helps me to my shaky feet. My world is still spinning. Why does Len have three heads?



I laugh and hug him. Debra runs over and throws her arms around us. Debra and I kiss Len on the cheek at the same time and crack up. My sides hurt. My head hurts. My cheeks hurt from smiling so hard. Only these two could make me love this pain so much. In that moment, I know that Debra, Len and I will most definitely last forever.

*



I hold my daughter's hand. I try to grasp it tightly, but she hates holding my hand. She says she wants to hold her Daddy's hand. I tell her that he's not here.



He never will be here.



I've named her Deb. She's beautiful in every way. She has my heart-shaped face and Len's shining brown eyes. She has my joyfulness, Len's strength, and this little spark all on her own. I wish Len and Debra could've met her. I miss them so badly it hurts.



I take Deb to the quaint little park I went to as a child. She tugs on my dress and asks if I could buy her an ice pop. She chomps it down the way Debra used to and starts toddling around the park like a penguin. She's adorable. I want her to love me.



I sit down on a metal purple bench. In my mind, it's still red and chipped and wooden. In my mind, I see these three teenagers, dancing and rolling in an empty meadow. I see simpler times. I see my glory days.



And then my mind summarizes what happened during my decline. Len going to Germany, a medic. Debra at Yale, as expected. Me, at home, with a little person growing inside my stomach. My parents kicked me out of the house when they found out I was pregnant. Len's family took me in. Len and I sent letters. He told me beautiful things—poetry, bits of advice, sweet words to say to our daughter. He promised we'd marry the second he'd arrive home. Debra and I tried to write, but it was hard, especially when she used those sophisticated words. And at some point she just stopped writing back. I'll find her again one day. My daughter will meet her namesake.



And there was the day that a uniform-clad man appeared on the doorstep. Black suit, solemn words. Len had died on the battlefield. I close my eyes now, remembering that day. I had read the letter, wrenching in sobs. He was shot in the chest while trying to heal one of his friends' wounds. I was hanging up the wet clothes then, in the backyard. The neighbors heard, and stared, and pointed. I didn't care. I cried my heart out until it was a little shriveled thing that would never be the same, even if re-inflated.



I open my eyes now. Deb has materialized next to me soundlessly. I want to tell her everything. I want to tell her about love and heartbreak and best friends and that she should always, always write back. I want to tell her that some days it'll be impossible not to think about that one boy, and the heartache will be inevitable on those days. I want to tell her that some people will walk out of her life, but I never will.



She starts rolling down the hill and I see Len, Debra and I rolling down with her. I smile and I'm young again.. She'll know soon enough.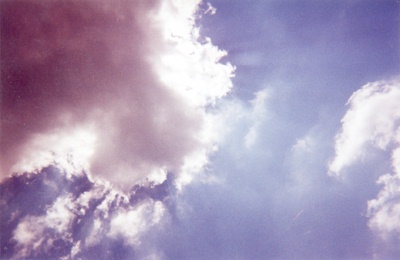 © Kena A., Huntsville, AL