Dear Aiden
August 10, 2011
Dear Aiden,

I was looking through old photo albums the other day, when I came across one of you. The sun was bright in the background, shining through the lens and casting a shadow across your face. Boy, was the sky ever blue. I don't recall a day as nice as that one.
You held your arm out toward the camera, with a grin on your face. A grin I've seen a million times- with those little dimples of yours, and perfectly crocked teeth. Because of the shadow, what is enclosed in your hands can not be seen. I remember, though. Mom was taking the picture, and I stood behind her, watching.
It was a penny. Just a small, nearly worthless penny. One that most would just toss aside in the change bin and move on. Just one penny of millions. This penny was different though, wasn't it, Aiden?
I remember watching you cry, holding onto dad's leg tight as can be. Screaming, red-faced, refusing to let go. Dad promised he'd be back. You didn't want him to leave, though.
I remember dad bending down on one knee, looking sincerely into your eyes. Placing one hand on your shoulder. Telling you he would be back in two days. Explaining it was just work. I remember the look of doubt that remained on your face, no matter what dad said. Finally, I remember the penny.
Just a penny, to most seven year olds, not very important. But to you, Aiden? That penny meant the world. Dad reached a hand into his pocket and pulled it out. I remember how the light shone on its gleaming body, reflecting a blinding shine.
Aiden, were your eyes ever wide. Dad took your hand and placed the penny right on your palm. He closed your fingers around it. 'You keep it safe for me, alright?' Dad said. 'Now you know I have to come back. If I wasn't, I would bring the penny with me.'
That convinced you, Aiden. Dad gave you a hug and kiss. He did the same to me. Told me, you and mom he loved us. He'd be back before we knew it. And then he left.
For the whole day, Aiden, you treasured that penny. Shined it, looked at it, held it. We were outside that afternoon, playing on the lawn, when mom brought out her camera. She was laughing as she asked you to show the camera what dad left behind. You held out your arm, grinning. I stood behind mom. Snap. The picture was taken. One picture, full of memories.
I remember the rest of the weekend. I remember you holding the penny tight as we awaited dad's arrival. I remember dad not coming back.
We didn't get any closure. We said our goodbyes, but only temporary ones. We didn't expect it to happen. I didn't really understand. Although you knew more than I did, Aiden, I don't think you really understood either. When mom cried, I didn't understand. All I knew was that daddy was gone, and he wasn't ever going to come back.
Why do I bring this up now, Aiden? Ages ago has that passed and been gotten over. I have moved on completely, and so have you. Why?
Well, Aiden, it's really about you. As I said, I was looking through the photo albums. Every single picture brought on tears. Yet this one was different. This picture triggered no tears at all. Instead, I had a weird feeling. I can't explain it, even to myself, Aiden. Just a feeling.
I had no closure with you. One day, you're laughing, with those cute little dimples. The long hair you always toss out of your eyes. Holding hands with your fiancée, looking happier than I've seen you in years. I was just so proud of you, Aiden. You had gotten past all the bad, moved on, found love. You had a full life ahead of you.
Why did you have to go, Aiden? Why did you have to leave, when you promised to come back? Just like with dad, all that you left behind was a little piece of yourself. With dad a penny, with you, a ring. A simple little ring on your fiancée's finger. I was there when you kissed it, and told her you'd be right back. Off to get more refreshments for the party.
Some things are just meant to be, Aiden. That's what you always told me. Dad's death was meant to be.
I miss you, Aiden. I miss you so much. I know, if you were here, you would tell me I have to move on. You would tell me to do exactly what you did; leave the past behind and find happiness.
But I'm scared. I'm scared of love. Mom loved dad. She married him, wore a ring just like your fiancée. They loved each other so much. And just like that, it was all ruined. I lost a dad and mom lost a husband. When you found the courage to move on from that, and found love yourself, what happened, Aiden? A husband, brother, son and friend was lost. I don't want love, Aiden. I don't want this torture.
I always wonder. What would happen if you hadn't insisted on driving to the store for refreshments? I offered to do it. It was your engagement party, after all. I told you I was perfectly fine to drive.
But you insisted to the point of insanity. If I went and got those drinks, it was me who would have been hit by that car. Me who would have been a victim of a hit and run. Nobody loved me, Aiden. Besides you. It wouldn't have been such a loss.
But it wasn't me, and I'm still here. Except, now, I can safely say no one loves me. Everyone I love is gone.
You shouldn't have left me, Aiden. You knew I needed you. You shouldn't have left me to this depressing world.
I want to say I will always love you. I will always love you, Aiden. I will hold on to you forever. I know, if you were here, you would tell me not to. Tell me to let go.
But you're not here, Aiden. You're gone, and, just like dad, you're never coming back.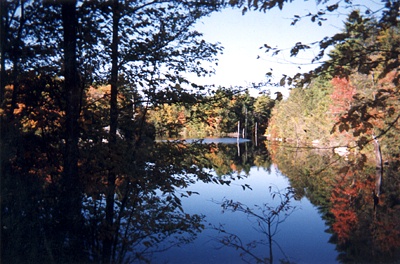 © Jacqueline W., Milton, MA