Never Know
August 9, 2011
The TV was on, but I didn't hear a word. The pictures changed in front of me, but I didn't see any of them. I chewed my nails anxiously, until they were raw stubs. I glanced out the window again. Every car brought fresh hope to me, only to carry it away again when it passed by.

The phone rang. I nearly hit the ceiling at the shock of the sound. I stumbled across the room to answer it. Maybe it's him? Hope surged through me. This hope far more powerful than any that the passing cars had brought. My hands shook so much; I could barely lift the phone. No, I don't want to buy anything.

I slammed the phone down, my vision blurred with tears. I wiped them away fiercely. No need to be self pitying, when I had no idea of what situation he faced right now. From what I had gathered from the little bit of the news I had watched, hundreds of people were on the verge of death right now. Hundreds of families were about to be ripped apart. Hundreds of people who would never see their children, spouses, parents, brothers, sisters, friends again.

I was one, tiny, insignificant person in this whole mess. We weren't even married yet. The phone rang again. I jumped like I'd been electrocuted. When would the phone stop giving me a heart attack every time it rung? I answered. Just his mother. In the same state of panic as me. No, I hadn't heard anything. No, she hadn't either.

I took to pacing the room. Desperately trying to distract myself, but all in vain. Then a knock at the door. I heard it, almost in slow motion. The door looked so much more than a few metres away. I crossed the distance quickly, taking a deep, reassuring breath.

I opened the door, my whole body trembling. I was face to face with policemen. In that moment I knew.

He would never walk through this door again.
Never kiss me as he left for work, like he did this morning.
I would never get the engagement ring I found in the wardrobe yesterday.
And he would never know I am pregnant.
Or see his child.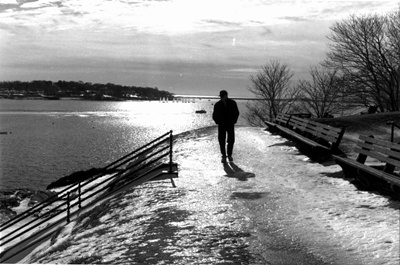 © Steve S., Marblehead, MA