Moving A Little Too Fast
August 15, 2011
And then time stops.

I know that sounds incredibly melodramatic, but it does.

Each second is frozen in the air like a thousand invisible crystals. You can't see them, but you can feel them prick the back of your neck and slide down your spine, making you go all hot and cold at once. And you feel…well, you know when the doctor uses that mallet to rap you on the knee to check your reflexives? That tingly sensation you get on the cap of your leg when it's over? Your whole body feels like that. And you want to move…but you don't. You hate yourself for not moving…not reacting. The only sound is the sweat sliding off your palms; the hum of adrenaline shooting through your veins, begging your appendages to do something. And now your throat is seizing up, ever so slowly. You don't notice how dangerously close you are to having your oxygen supply completely shut off until you find yourself gasping for air.
That's what brings you back, of course. The sound of your poor heart about to explode open in its frenzy to pump blood to the rest of your gasping, shocked body…that's what breaks the Frozen Time spell.
Conscious thoughts and sensations send you reeling back from that sick abyss of paralysis you'd been suspended in. The force of it, the tidal wave of realization, almost throws you completely off your now mobile feet.

Andrew.

It's your first conscious thought. It springs up from the bowels of your mind before you even have time to realize you've started running.
No…not running, exactly.
You, my friend, are FLYING; faster than you've ever humanly moved in your entire life.


ANDREW!

Your bare feet slap, slap, slap the wet, mossy earth below you; stray leaves cling annoyingly to your toes. You pump your arms, too. Not because you do this usually, but because Coach mentioned it once making you more aerodynamic. You feel clever for remembering to do this as trees whiz by your head at alarming speeds.

You keep your eyes absolutely glued to the spot in the tall oak where you saw him jump. You can't risk getting lost in the woods before you can get to him. I am not useless, you tell yourself. I will get to him. There is a nagging uncertainty, of course, that wants you to stop moving…because maybe he's dead.


No.

Not Andy.
He may be stupid, you think, but he's Andy. We're going to laugh about this at school tomorrow, you think. But the fear is persistent, and it tries to bubble up as you sprint through the forest.

You pump your arms faster and bend your head lower. You run until your feet are numb and your pumping arms ache.
Then you feel the earth changing a bit under your feet. You're on the top of the river bank now, and you've got to be careful. The ground slopes maliciously towards the rushing foam of waves below you, swirling like chaos itself. The roar of the water helps to quell some of the roar inside your own head, and you feel a bit braver. With reluctant understanding, you slow down as quickly as possible and try to find sure footing on the drenched, jutting rocks underfoot.

You really wish you had brought your shoes.


When you reach a good look-out rock, you hobble to the very tip of it on your hands and knees, (heart battering in your chest) and stare into the churning, black tributary beneath you. The massiveness of Dent Wood River makes your throat catch a little. And you can bet you're sorry behind your feeling vulnerable. The only thing you happen to be wearing is your cute little summer dress that barely reaches you knees! How in the heck are you, of all people, going to rescue someone with a death wish if all you are wearing is something that should solely be worn for tea parties and small get-togethers?!?

Take a deep breath there, cow girl. Don't freak out again. Find Andrew.
Andrew, Andrew, Andrew, Andy.

…Where is he?!

And now, against your better judgment, you allow yourself to get a little freaked out all over again. Because to your left, you see the huge oak that Andrew climbed to the top of and then jumped off of, but he's not there. Even two hundred feet away you can tell that the roots holding it in the Earth are breaking free from the ground. There is no way you could go to that tree in time to check to make sure he's not somewhere on it. Because it's going to fall, and soon.

But you don't need to check that tree, do you?

No. Don't doubt yourself now. You know what you saw, and you saw the dude JUMP. He must be in the river. He has to be in the river.

And yet, as you scan the river, you don't see a body, lifeless or otherwise, buffeting about in the squall. You still have hope, of course. The river is flowing rapidly to the right…Northeast, which means he's probably been pulled down that way. Everyone knows that where the Dent Wood River runs northeast, it runs to an extremely lazy pace, and then picks up near the rapids and then eventually it reaches the falls. And then the river spills into the Capahanuk.

You can do it. If he's being carried down the river, you can reach him where it slows. Brewster Creek. You and Andy went fishing there once.
There isn't time to get the police. There isn't even time to run back to the party and get help. You edge backwards off the rock and slip back onto the muddy river bank. It's all up to you. You start running along with the river; arms pumping.


Time, unfortunately, is now moving a little too fast.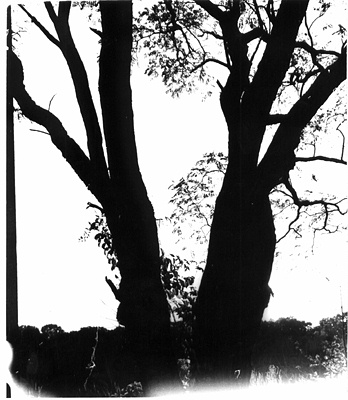 © Julie S., Marblehead, MA