The Life Once Lived
May 28, 2011
People stared. She walked by, and conversations halted. Silence swept over the hallway as she walked down it, keeping a brave face on in her misery. The florescent lights reflected off of her head, once full of gorgeous hair. It can't be easy to sport a style that's only appropriate on male swimmers.

I could hear the evil snickers of the mean girls, the girls that could never look past such a tragedy and put that in front of some one's looks. She had been one of them, never thinking of anyone's feelings as she taunted anyone less than perfect. But from the way she regarded them, she had changed so much that past year. Their laughter echoed in the hushed hallway, receiving glares from sensible people. How can someone be so mean to someone clearly in pain?

She ignored the snickers, and glided along as if nobody else existed. She knew what everyone was staring at. She wasn't stupid. Eyes followed her sympathetically. But still nobody dared to reach out to her. I knew what she really needed was a friend, someone to talk to.

I stood at the end of the hallway, and when she drew closer I knew what I had to do. She almost passed by me, but she obviously noticed something different in my eyes. Not pity, but true understanding. She slowed down. All eyes were on both of us.

I flashed back to the first day of high school before the popular girls even knew we existed. I had no one to sit with; I was lost in the sea of people, not knowing where in the world I belonged. She looked just as lost, maybe even more than I felt. We both happened to find an empty table at the same moment, and we figured that two lonely people could become two friendly people, so we sat together.

Of course, her beauty didn't go unnoticed, so the populars immediately snatched her up. I was alone again. And even surrounded by girls, she was alone; I could tell.

I brought myself back to this moment in the hallway. Surrounding eyes boring into me, watching my every breath. I just relaxed and realized that I could be that friend for her to talk to. I took a deep breath, and I reached out and laid a hand on her shoulder. She stopped. I could hear many breaths simultaneously caught in half-gasps. Her green eyes stared at me, willing me to continue whatever I intended to do.

I smiled, and she smiled back. And the hallway seemed full of life, even if there was a life slowly being taken. With that one gesture of kindness, my life changed forever.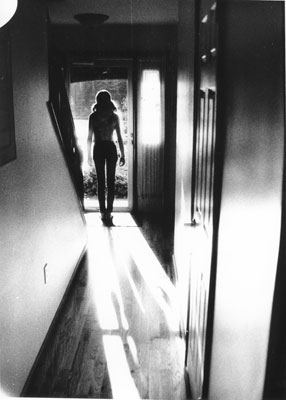 © Mike V., Morgantown, PA