Next-Door Neighbors
June 28, 2011
She's always signed her notes with little hearts, and it's not okay.
Now, maybe if he wasn't a 9-year-old boy, he wouldn't care so much. In fact, in the future, he'd probably welcome her heart-signatures. He is a 9-year-old boy, though, and when he looks at those hearts, he thinks of fluff and sugared frosting and Valentine's Day, which is his least favorite holiday. He thinks of her, which he doesn't like, so he runs outside and covers himself in grass stains and pretends not to notice her sitting on her driveway, pink sidewalk chalk in hand. He throws his baseball and scuffs his shoes and doesn't look at her because he is a little boy and she is a little girl and little boys don't like little girls. They have cooties.
But she sits there anyway, drawing on the pavement (Probably more hearts, he thinks with half a shudder and half a smile, and pointedly doesn't try to see her artwork) and watching him not watch her.
When his mother calls him back inside, she is furious. He's dirty, quite literally covered in dust and grass and dirt and who-knows-what. He doesn't know why it's such a big deal, but when he thinks of a certain little girl with a clean dress and neat braids in her hair, he's quick to snatch up the sponge and scrub himself red. He catches himself, halfway through, and leaves the backs of his knees untouched—his own private rebellion against her.
Maybe it's okay for little boys to like little girls, he thinks. After all, 9-years-old isn't that little: he's practically a teenager, now, and teenagers have girlfriends. And maybe her heart-stamped notes aren't that bad, either.
He's confused when he goes to bed that night.
The next day, he sits on his driveway with a piece of orange sidewalk chalk in hand, absolutely not waiting for her to come outside too. He's drawing monsters—he's still partially a little boy, after all. When her door opens, he doesn't look up from his terrifying art, and he definitely doesn't watch her neatly open her chalk-box and carefully choose her favorite worn-down pink.
Soon, she looks up at him, and smiles when he quickly looks back to his own part of the sidewalk.
"What are you drawing?" she asks.
He hesitates a bit. His monsters are truly horrific, and he doesn't want to scare her.
"…Nothing you would like," he says.
She smiles, lighting up at his words.
"Try me," she says, and when he finally allows himself to look at her driveway, he nearly falls over.
Every inch is covered in terrifying pink monsters.
Forget cooties, he thinks, and scoots closer to her. Together, they draw the most gruesome scene either has ever seen.
She signs her notes with little hearts, and it's definitely okay.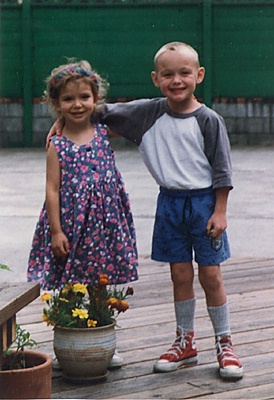 © Jacob H.,Phoenix, AZ