La la land of...food.
July 8, 2011
Magical aroma rose above as soon as the platter of food ordered was kept at a snowy table of two. With elegant red designed napkins laid on the lap, it was the time to finally consume the scrumptious dish in front. Taking in the entrée in plate and picking up fine silver cutlery, we began eating.

As teeth sank in the delectable Double-spicy chicken burger, mixture of mustard and hot and spicy tomato ketchup dripped down from either side of the mouth. With eyes closed, mouth chewing the bite, it certainly felt like heaven. After a couple of more bites, toothsome and crispy French fries were munched on. Nothing says it better than calorie-filled fast food.

Sitting out in the open, with soft breeze caressing the cheek, the location gave a perfect view to the breathtaking sunset. As the sun came down, twilight arrived. The sky seemed as it was painted blue, with white puffy clouds resembling sheep and dusty orange colour covering the horizon. The air suspended with pungent smell of the near by table.

Taking a sip of chilled Coke, crushing a piece of ice between two teeth, the rest of the zesty burger was swallowed. Last greasy-filled French fry was used to sweep the remaining ketchup from the plate. As I nibbled on the remaining French fry, the ordered desert was bough to the table. Chocolicious brownie drenched in chocolate sauce with waffles on side.

The looks of it alone bought water to my mouth. As we took turns to take the piece of the divine brownie, the sky above us had darkened. The restaurant flickered in matter of microseconds. The miniature lights lighting the place was a thing to marvel itself. Lambent twinkling spot lights shimmered the very floor we were seated at. The sign board glowered, flashing the name of the restaurant in neon yellow and green.

One heavenly bite of Chocolicious brownie takes the person to another world. Saccharine chocolate syrup filled the mouth and drowned teeth in soft chocolate spongy brownie. I finished the rest of it in complete chocolate-daze. Covering the last piece of waffle in a puddle of chocolate sauce in plate; crunchy waffle was consumed.

With stomach filled, and chocolaty aftertaste in mouth, the bill was paid and the waiter was generously tipped just before we exited.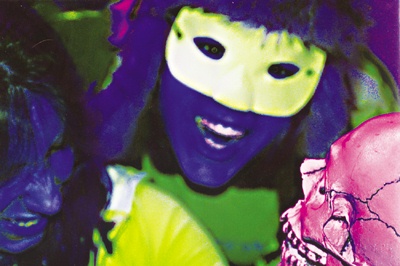 © Jon G., Bethesda, MD