Punk will never die chapter 5
June 29, 2011
'Please, please make it stop!' Yells Starr
'Babe, it's alright your with me.' I try to console her 'No one's going to hurt you.'
She looks at me her eyes leaking like a sieve. Her make-up all smudged, her lip all red from the stitches.
'He's going to hurt you!!!' She screams.
Now is when the nurse comes in and puts some type of meds in her I.V. She stops crying and just looks at me saying she's sorry through her eyes. I sit next to her and rub her head, saying how sorry I am over and over again. When something came through my mouth I don't think I could of said dead or alive. 'I love you so much Starr, I mean so much' she crawled up and cuddled next to me and muttered that she loved me too. What's happening to me? Since when do I get this lovey?
That's when Starr's dad came in, well assuming he is looking by the scratch marks on his face. He walks over to me and growls ' If you ever touch my daughter again, you DEAD!'
And then of course he walks out the door, and leaves the Hospital. What do I do? I cannot send her back home. What if I pack up her and I and run far away? Yeah I think that will work. Look out Fascist world, here come two VERY hot people to take over.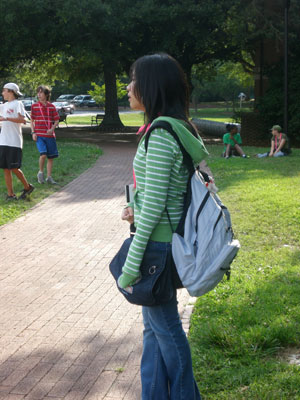 © Lucienne B., Parkland, FL