They All Fall In The End
June 30, 2011
They always say the same things.

If love's a game, I always imagine that it's something like a convoluted horse race. Every Thoroughbred champion, the biggest and the best, all thrown into one event. They burst out of the starting gate with the intent to win, then run their hearts out to the finish line.

Then, one by one, they'll all start dropping to the ground. Maybe it's one rider's fault. Maybe he allows his horse to get caught between opponents, perhaps a little too close for comfort. There's probably dirt flying back into his face and everything is happening at an impossible pace, so it's easy to lose track of what he's doing. His horse stumbles as its back hooves clip the front. He's in the middle of the pack and there's no other direction but the way gravity is taking him. Then maybe he takes them all down with him, and only a few will make it past the first corner.

So they all fall short of the finish line. So what if a bunch of innocent riders get crushed by trampling hooves in the mean time. It happens, that's life. Others are going to tromp all over you, and then they're going to fall too. They probably don't mean anything by it.

I wish that love were something like a horse race. We could all take bets. The fools, the hopeless romantics, they can go ahead and bet on the winners.

As for me, I'll bet on the losers. Nobody wins at this game.

I like you, I do. Go ahead and tell me I'm pretty. You love me? Good for you. You want to be with me forever and ever and ever and ever? That's nice.

You're handsome and you're sweet and you're kind, but just tell me that you like me.

I'm not ready to be crushed yet.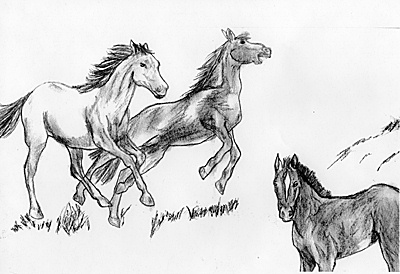 © Ali A., Eau Claire, WI