The Magic of Winter
June 18, 2011
It was a very cold winter. The snow covered about five inches of the road in front of my house. I couldn't believe that my cousins still wanted to come here. Besides, I knew they hated me. I didn't know what made them stick to their plan.

Josh, my best friend was coming by. I complained to him, "OMG, Josh, I'm so stressed. My cousins are coming."
"Really, Gabbs? Why do you hate them so much?"
"I don't hate them. They hate me Josh! They hate me! Oh, and they will come one day before my performance. That's just perfect."
"Don't be so sarcastic. I'm sure they will be nice. I'll be on your side if they do something bad."
"Thanks, Josh. You're the best friend ever."
"Well, thank you, Gabby. Now let's go to the tree house, shall we?"
Josh and I built this tree house when we were in 4th grade. It was the time when I moved here, to Philadelphia. The tree house was filled with our memories. It was equipped with portable heater too, for winters. Josh and I spent a lot of time in the tree house.
We were doing a musical play for Winter Performance at our school. I became a girl from a poor family that wanted to reach her dream as a singer. I sang a lot of songs in this play, and Josh was the pianist. He played great.
"Hey, what are the names of your cousins again?" asked Josh when he looked at my family picture.
"Kelly, Wendy, and Justin," I answered as I joined him looking at the picture.
"They're not so bad. I mean, they looked nice."
"Yeah, they looked nice outside, but they're evil inside." I said with an upset voice.
Josh realized the change of my voice. "Okay, let's go outside to cool down your heart. Get it? Cool down, because it's cold outside?"
"Hahaha, so funny."
"Hey, you're doing it again. It's the second time you're being sarcastic to me today," he pretended to be upset.
We both laughed and began an exciting snowball fight outside.

Three days flew quickly. Early in the morning, my family and I picked up my cousins in Philadelphia International Airport.

"Hi, Wendy. How are you and your family?" asked my mom.

"We're good, Aunt Liz. Our parents can't come with us today, they have a lot of work this week," said Wendy.

"Gabby, say hi to your cousins," my mom whispered.

"Hi," I said halfheartedly.

We were going back from the airport when Kelly, the youngest of my cousins, asked, "So, Gabby, you're doing a play tomorrow right?" "Yeah," I said. "Can we watch?" asked Justin. "Guess so," I said doubtfully.

Josh came over again today. "Come on, it's the last practice before the big day."

"Alright, let's go to the tree house," I said. My piano was in the tree house.

I was climbing to the tree house when Josh shouted at me, "Hey, what happened to the piano? It doesn't make any sound."

"What? I played it yesterday, it was still good. Urgghh, it must be Wendy. My mom showed her the tree house this morning," I grumbled.

"Calm down, Gabbs, it's going to be okay. At least your voice is fine," he said.

"Yeah, let's have some snacks. My mom is making fried bananas."

"Fried bananas?"

"I know, that's weird. That's my family."

We ate a lot of fried bananas, especially me. I really loved my mom's fried bananas.

The big day finally came. I was taking my costumes out of my closet when I found that my costumes were wet! It was one hour before the performance. "My cousins must have made them wet. What should I do?" I asked myself.

I went downstairs where my mom was preparing delicious sausages for breakfast. "Mom," I called. "Sweet heart, what's wrong with your voice?" my mom interrupted. That moment I realized that my voice was cracked. Right before my performance! "Oh, Mom, what should I do? I have a song to perform in about one hour."

"Here, eat this." She gave me a chewy tablet. "Then eat your breakfast, okay? I made you some delicious sausages."

I took the medicine and felt a lot better. When I ate my breakfast, my cousins came downstairs. My anger suddenly increased.

"Why do you guys hate me so much?" I yelled at them.

"What did we do?" Wendy shouted back.

"Well, first you broke my piano, and then you made my costumes all wet, and you made my voice cracked before my performance."

We had a big fight. We argued for five minutes, until my mom came.
"Hey kids, what's going on here?"
"She said that we hated her. We don't hate her," said Wendy.
"Oh yeah? What about my piano?" I asked.
"Your piano? We don't even know that you have a piano," she said.
"Oh, sorry, honey. I clogged the holes under the piano keys with some clothes yesterday, because your father was sleeping. I just didn't want anything to wake him up. Then I forgot to take it back," explained my mom.
"Okay," I said slowly, trying to put the information together in my brain. "What about my wet costumes then?" I attacked again.
Kelly answered, "I took your costumes this morning when you were still sleeping, because your mom told me to show them to your dad. Your dad was washing the car, and he accidentally showered me and the costumes when I was walking at the other side of the car."
I groaned. "Don't worry, Gabby. I can dry all your costumes in 15 minutes. I just found a clothes dryer in the garage and it still works," my mom said, then went to dry the costumes.
"Wait. What about my voice?" "Well, you ate a lot of fried bananas yesterday. But hey, you're voice is coming back," said Kelly, realizing that my voice was back. "Oh, right. All the fighting must be some kind of warming up for me. And of course from the medicine too."
"So, you don't hate us anymore?" asked Justin. "Guess not. I'm sorry that I thought you hated me," I apologized.
The doorbell rang. It was Josh in his tuxedo. "Wow, you're very handsome, Josh," I said. "Thanks, Gabby. Now come on, we have to go."
"Josh, you missed the big show," my mom came out from nowhere. "Gabby just had a big fight with her cousins. I should have recorded it," she said with a thinking face.
"Shh, Mom. Don't embarrass me. Are my costumes ready?"
"Yes, you can go now. We'll watch your performance later. Bye, Gabby. Bye, Josh."
"Bye," we both waved at my mom.
"So, had a pretty good fight?" Josh asked. "Oh yeah, you don't want to know." "Tell me everything." "Shut up, Josh. Just drive." "Oh, someone needs a hug here." He hugged me. "Feel better?" "Yeah, thanks." "Are you ready for the performance?" "Let's do it."
The Winter Performance was a big success. My voice was back, and I sang very well, I guess. Well, at least that what my family and friends told me. Plus, I got my cousins back. This was the most magical winter ever.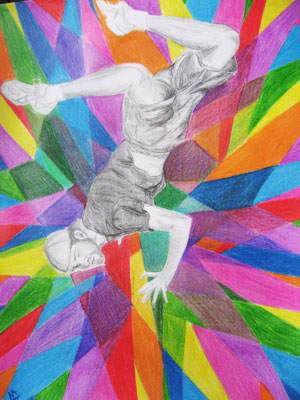 © Carollynn G., Hawthorne, NY