Cross My Heart
June 14, 2011
"You go first." Leah whispered to her friend as they stood in front of the large abandoned two-story house.
"No! You go. Your the one that wanted to come here anyways!" Shyana replied.
"Fine. I'll go." Leah squeezed through the cracked gate of the front yard and ran inside. She poked her head out the door and signaled for her best friend to follow her. Shyana looked around hesitantly. "Dear god, please don't let us get into trouble." she whispered, as she squeezed through the gate and then ran inside the house.
"Woah! It's huge in here!" Shyana said in amazement.
Leah grabbed her hand and took her around the bottom story. "We should move in here together in ten years." Leah suggested with an excited smile. "Eleven years. In ten years we'll only be seventeen." Shyana corrected.
"Oh, same difference! Let's go upstairs!" And so the two girls went up stairs.
One of the rooms shined oh so brightly, as though the sun itself were in it. The girls were drawn to it. They walked inside and found that the room was a nursery. The whole house was empty but it seemed as if the movers took nothing at all from this room and had left everything in its place. On the walls were paintings of dinosaurs with smiles. In the center of the room was the crib of an infant. "Look!" Said Leah.
In the center of the crib rested two rings. One with the sun and mountains engraved into it, the other with the moon and stars. Leah took out the rings. "This one is yours," she said while handing Shyana the ring with the sun and mountains,"And this one will be mine" Leah finished.
Shyana slid the ring on her finger. She held up a small hand with tiny skinny fingers. On one of those fingers sat a large ring. "Fits perfect." She said with a smile. "You know what these rings mean, right? You know what they are?" Leah interrogated her friend. "No...? Tell me!" Shyana answered.
"We were supposed to find these rings! They were probably placed here by angels! Their friendship rings. They mean were going to be friends forever." Leah said with the hugest smile.
"Cross your heart?"
"Cross my heart."
Shyana smiled. She glanced at her watch and panicked. "Let's go! We're going to be late! My mom is going to get me in so much trouble!"
The girls ran home hand in hand with their new rings.






Eight years later..






"Leah! Guess What?" Shyana ran to her friend breathless and excited.
"What?!" Leah answere just as equally excited.
"Joey Madison is going to ask you out!"
Leah gasped with a smile.
"Cross your heart?" She asked.
"Cross my heart"
"Pinky swear?
"Pinky swear!"
Shyana held out her pinky and hooked hers with her best friends, and on that same hand rested a perfectly fitted ring engraved with the sun and mountains, on Leah's, rested a perfectly fitted ring with the moon and stars.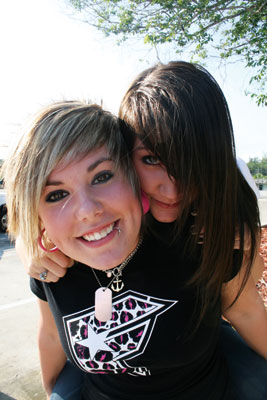 © Ansley F., Tifton, GA