The Beginning
June 14, 2011
I never imagined myself here. So stupid and so screwed up. I never think, I never stopped to wonder if what I was doing was wrong. Of course it was. How could I be so stupid and believe something so dumb! I almost got someone killed. Their bloods on my cloths and there is no was of hiding it. The blade that touched their innocent skin now haunts and lies in my hand. There is no escaping it now.

Betrayal. That was the one feeling rushing through my mind, keeping the blood rushing right out the wound that lay between my chest and my waist. Knives speak to you in such a tone, like they are trying to corrupt you with their little siren song. That was the tool that would scar me for the rest of my life. And all the noise of people screaming and running, the raindrops against the cold hard pavement, the ambulance sirens on the van that now carried me away were all becoming a blur. I was loosing so much blood that it was just flowing out of my body to my death. The tears that are running down my face hide the terror from my eyes as I manage to take one last glance out the vans door at the place I used to call home.


People are going to judge you no matter what you do. But what they think of you is insignificant. Take my mom for example. Growing up, she hated me. The only person who loved me was my dad. My mom used to lock my in a closet for hours at a time. I loved my dad. Finally when I was ten, my dad got a divorce with my mom and I lived with him. Two years later he got re-married to a woman named Rachel and she had a daughter named Brittany. We were a happy family.

After school one day my mom showed up to get me. She said my dad was working late and asked to make sure that I was picked up and I didn't take the bus home. When we got to my house, my dad's car was in the driveway, and he was in fact home. He came outside and started screaming at her. They fought and fought and finally both came in the house when they calmed down a little bit. They were in the kitchen and I started to come down the stairs. Neither one of them had heard me. My dad had his back turned towards the mother. He was making dinner for us. I peaked around the corner and saw my mom pick up a knife and stab my dad. I ran in crying. I grabbed the knife from her and threw it into the other room. She ran after me screaming, picked up the knife and dragged me back into the kitchen.

"Don't worry honey. It will all be over soon." She said. She swung at me with the bloody knife. It was two inches from my stomach. I was struggling, holding it from me. She pushed with all her might and I picked my feet up, kicking her off of me, hoping that I did not get hurt. She flew back. I glanced at my father one last time and started to beat my mom. Once I started, I didn't stop. I was only twelve. I thought I had killed her. My step-mother and sister came home and called 911. It all happened in the matter of two minutes.

The one guy I could trust in my life had died. My real mother blamed the entire thing on me. Both of our hand-prints were on the knife. I had beaten my mom, and I was the only one conscious when my step-mother and sister came home that day. This made me seem very guilty. The only reason I was found innocent in the killing of my father was because the wounds were too high up for my height and perfect for my mothers. I was put away for three years, due to what I did to my mother. She was sentenced to life. It has been three years and I'm finally out, and living with my step-mother, sister and a new step-father.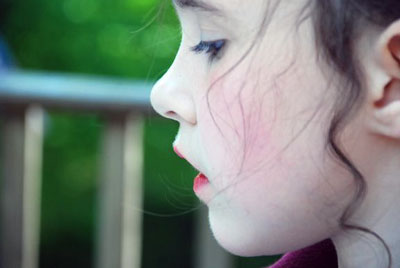 © Julie P., Rochdale, MA