Sir Jacques Creek
June 6, 2011
Sir Jacques Creek

Sir Jacques Creek, an austere man, a gnarled face full of greed and self-importance, his block figure square, his briefcase hanging, swinging as a pendulum in a grandfather clock, and a grandfather he was. Of course he didn't take too much notice of this. His age was never mentioned. When asked, he would reply, "I'm in my prime and age is not relevant."
Some believed his private life consisted of tumbling in and out of discreet affairs with the most prestigious women, picked up at glamorous parties, which, he would frequent many days of the working week.
His most beloved acquaintance, Gordon, sat inside his blazer pocket, decanted into his trusty hipflask, his shot of confidence, his 'pick-me-up'. His medicine, it was known as, but one person knew as well as the next, that medicine does not come packaged within a hip-flask.
Would you feel sorry for him, leading the shallow life that he did? Many did, others simply thought that he was high-class scum and needed to climb down from the high horse that he so comfortably presided upon.
As one might guess, the reason earnings flooded to his bank was not due to his popularity. In fact, his source of money was often joked about, as himself and it did not match expectations. The name, the all-important name, "the fluffy bunny emporium," the world's most renowned seller of cuddly toys, with squeaky-voiced jingles, screaming 'kiddies', pink sparkly decoration. This was his warehouse, his idea, his source of money. Many called him, 'as sweet as a lemon'- referring of course to his adolescent work and severe attitude.
One aspect, of his life though, was not often specified. A few rumours had circulated in the papers, but no further enquiries had been made, as there was no existing proof. It was Creek's tradition to escape for a few weeks at times of no significance. That was it, when he fled, the dates were completely random. Previously he had caught his flight to the exuberant, humid and rural locations of Mexico at eleven o'clock at night in mid-March. Another time, he was spotted fleeing his home, his tie flying out wild and full of life behind him as he caught a cab to the airport at one o'clock in the afternoon, in the bleak month of September. These are among the many unforeseen 'getaways' that Creek would make, but one point that ought to be repeated; the locations. These never changed: the exuberant, humid and rural locations of Mexico.
Of the infrequent enquiries that did take place, well, many interesting ideas had formed. Perhaps the favourite consisted of a mysterious relative living in some Mexican destination and he simply went to check on them to see how they were, although this did not explain the timing.
Another of the explanations had a darker approach and this perhaps made the police a little more interested in the matter. We know that Creek was certainly fond of the drink and there was definitely some talk of his apparent depression, you know, living for the parties, living for the publicity, cannot have brought one much joy, and this led on to the idea that he may have been exporting illegal drugs from his distant, enigmatic Mexico.
Of course, this was just speculation, but when the daily papers were released onto the shelves, shouting their headlines to customers, and the block, black lettering imprinted on the retina, 'Sneak Peek, With Creek and his Mischievous Mexico!' no-one would believe that these were simply rumours, however, it did not last forever. Yes, everyone had dined out with the girls and sniggered and whispered on what was shocking and unexpected as well as last's season's colour, but it had eventually died down and the gossiping crowds crept on to the next victim of the present paparazzi.
There have been many creative minds in the past, in authors, artists and others of similar profession, but today, this must not be expected from the public. As for Creek's disappearances, apart from recondite relatives and drug taking depression, the only other solution considered was that he was simply away on many holidays.
Sir Jacques Creek. There is certainly a striking sense of control and authority within that title. The name Jacques, would perhaps result in a common reaction hearing 'sonnez les matines', followed by the familiar 'ding dang dong' of the French nursery rhyme. But not such impression of control. Creek another possibility, although maybe the only feeling this name evokes is weakness and the sound of a door left to swing when open. No, it is certainly the title that gave Creek his influence on the community.
Any individual with a title, gives the impression that he has a special gift and has served the community and so we should respect him. However, as probably suspected, this was not, as such, the character that the real Sir Jacques Creek was. In fact, with regard to the welfare of others, he did nothing, and had only inherited his title from his father, whom nobody really knew, as it was one of those questions which he often avoided when asked.
One question, which is almost never asked about the likes of men such as Creek: were they always the way that we know them today? Well, the sad element to all of this is that, in his youth, Creek was seen as an extremely unfortunate individual. At an awfully young age, both his parents had died tragically and he was left to the government. From then on, he was settled in a care home. He was not in any way a disruptive or violent child, but truth be told, he handled it in such a way that he kept all feelings to himself and would not interact with those around him.
He did, later on in life, become lucky with his work, due to that idea of his, but all the while his title had been kept secret. Nobody knew of his father's heritage, but when the information did eventually reach him, it did make any difference. By this time he had made his riches and settled down to his superficial life.
The common person is often referred to as an onion, with many layers that make up their overall character. Creek's past ensured that this analogy was a gross understatement. His many skins were great in depth and venturing through these layers would have you spiraling into his childhood loneliness, the distraught boy hammering away inside, waiting for a reaction, the strong urge for liquor, his creative trait held back and ignored as he turned drunken and at length, gregarious.
This is perhaps what led to the death of Sir Jacques Creek. When found trussed and abandoned on the train tracks, it was suggested that perhaps the manufacturer of fluffy bunnies had been not been the spirited, pompous individual of expectations. The bunny maker had retreated to its burrow, never to return again.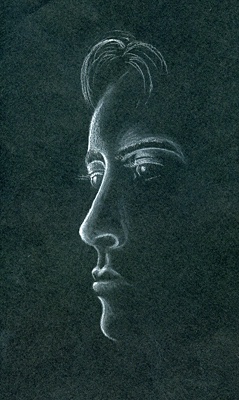 © Carlos S., Glendale, AZ