Different but the Same
May 23, 2011
In her mansion, just outside of town, she wakes up on her soft, luxurious bed, covered in her imported satin sheets. The sunlight comes through the gold rimmed windows. Hand-made rugs cover the floor, and priceless paintings are hung up on the walls. This has always been her favorite bedroom out of the seven she has in this massive home of hers.

At the entrance to an alley deep in the city, she wakes up on the cold, hard sidewalk. The one thin blanket she has, wrapped around her tightly. The sidewalk may be at the entrance of a small alley, but its close enough to the main sidewalk to still be secure. There usually aren't many people here so she has the place to herself for now. This has always been her favorite place to sleep.

Still in her room, she sits in her bed, thinking about what today has in store for her. Everyday there's something different. There's always somewhere to be, someone to meet, expectations to live up to. There's also always a new rumor to deal with. They started out harmless, and then became serious. They're all lies but they still have their effect on people. All her friends left her because they believed she'd gone to go and live "the rich life." Her husband left her; rumors about affairs and divorce brought distrust into their marriage. It wasn't long before she lost everyone she truly cared about. She gets up. What can she expect out of today?

Leaving the alley, she gets up from the sidewalk about to go to her usual spot. Every day the same, but at the same time, different in its own way. Once in a while an extremely generous person may pass her by; she may be able to eat three meals one day instead of just two. Of course it wasn't always this way; she once had a job, a home, and a family. But after the divorce her life basically fell apart. Her husband left her because of her drinking problem, and he took the kids with him. She couldn't get a job, and couldn't pay the rent. She was evicted and had nowhere to go, her now ex-husband had moved away without telling her where he was going. There was no one left for her, she was on her own now. This was when she began her life on the streets; a life where every day was simply asking for food and money. What can she expect out of today?

She's driving down the street in her limo, a symbol of her wealthy lifestyle. She spots a woman on the side of the road begging for money, and thinks to herself, "There goes a woman who has made all the wrong decisions in life. Now she's there with nothing, reduced to begging for money. But she doesn't have to worry about the things I have to worry about; never somewhere to be, never someone to meet." But then she corrects herself and decides it would be nice to give the poor woman some money.

She stands at the street corner, asking for money. The sight of a limo catches her eye. "Rich people," she thinks to herself "They get their life handed to them on a silver platter, and still have the nerve to ask for more, when there's people like her who have to wonder if they'll even be able to eat that day." But her thoughts begin to change when the limo starts to come towards her and the window begins to open. A woman hands her a ten dollar bill.

In that moment when they both look at each other, with the money between their hands, they have the same thought; maybe they're not so different. They are both human after all.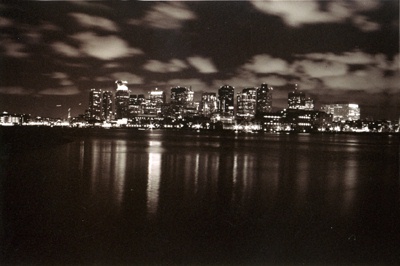 © Hoang P., Rochester, NY