Her Self Diagnosed Illness
May 21, 2011
I am a stoic. Which means I, a sixteen year old girl, I am unaffected by the feelings around me. It's come in handy to not be affected by drama or the loss of a friend. But it's hard, when someone feels sorrow and you can't even tell him or her you understand. I've had that happen in my life a couple times and I've been called a bad friend, or bad girlfriend because of it. On top of it I've had to let go of people because of my inability to feel anything at all. But I haven't always been a stoicist. A year ago I believed in happiness, and being excited. I believe in miracles. I had the best of friends that you could ever want that gave you nights you would never forget. I even had the perfect boyfriend who could make you fly. But last year that all went away. And I became known as the girl with no feeling. This is the story of the fun girl that became the stoic girl.

It was the last night of summer and there was going to be the annual last get together for the high schoolers at the rocks. The Rocks is a place that is ten minutes away from our small town, Lake Charles in Louisiana. It's really nice because there is an old bridge that over looks the river. And below is a bunch of rocks that we all sit on and hang out on. There are about 400 people that show up each year I've been. Usually all the junior's and seniors.



This September night was different though. The river was pretty wild, and there was some thundering and lightening while we were on our way to the party. I was riding with my boyfriend, Blane and my best friend, Sarah. We almost decided not to go, but it was the last memory of the summer, that everyone needed so they could get through that coming year of school.



When we got there we were surprised by the outcome. There were over 400 people at least. Living in a small town it's very easy to get the word spread about these type of things since it's a tradition. Also parents are very trustworthy since it's such a together community. But when I hear that I start laughing, because The Rocks is the time for everyone to have a last blow out. There's drinking, drugs, and sex. All because the parent's gave us trust, and because we're walking hormones. Usually we are smart about not driving or drinking. Unfortunately though Blane, and Sarah were drinking along with me. Blane also never lets anyone drive his truck. That thing was his baby, so automatically I knew that either we would be sleeping in his car, or he would be driving intoxicated.



I don't even remember leaving the party though. I don't remember getting put in the ambulance. I don't remember getting IV's put in my arms. But what I do remember is waking up in the Dubuis Hospital with my family surrounding me. My mother's hands were wrapped around mine as she whispered for me to please wake up. And my dad's eyes were bloodshot, as if he were crying for hours. The clock read 4a.m. I must've been out for a couple hours.



When I opened my eyes my mom smiled, "Hi baby girl," she sighed, "my sweet baby girl."



"Mom what's going on?" I asked. My voice was really groggy. It was a strain to talk.



"Honey you were in a car accident." She said as a tear rolled down her face.



"How bad?" I asked.



"You don't need to worry…."



I cut her off, "Mom How bad?"



That's when dad looked at her and nodded. She grabbed my hand and started, "Blane's truck drove off the bridge. We don't know how it happened but the truck went down in the water. The amazing thing was you were okay."



"So Blane's okay?" I smiled.



She shook her head, "Honey I'm sorry, Blane and Sarah's bodies were found in the river. They didn't make it out. We heard a report from one of the kids that saw it. They said that Blane got you to the shore. And then he went back down for Sarah, but it was to late and the truck pulled both of them back down in the water and drowned them."



I started crying. My two best friends in the world were just lost in accident that could've been prevented by me, if I just wouldn't of drank. It could've been prevented if I just saved myself. But I didn't even know that anything happened. How could I not of remembered the car accident? How could I of not remembered the moment that I just lost the two most important people in my life. The one best friend that makes me laugh, and the other one that was my first loved, and only love.



From that moment on I defined myself as a stoicist. I learned that it was better to just not feel anything at all, than to listen to the rude things people said like "Why did they die, and not her." Or "She should've been the one to die." Also I felt it better to be numb so I didn't miss Blane and Sarah. Some times I felt heartless. But I know that I will never feel the way for any other person the way I felt about them.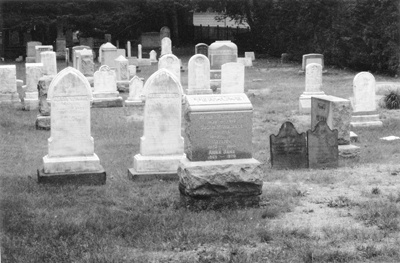 © Chris C., Pequannock, NJ