I Can't Help But Notice
May 18, 2011
I can't help but notice all the people in the windows as we drive down the street. It's like window shopping, but instead of clothes on display, there are lives. A man waves goodbye to his wife as he steps out the door, an old woman sits by her fireplace, and a little boy stares at a computer screen with messy hair and bloodshot eyes. And I guess if we just keep on driving and never stop, all the bits of lives I see will piece together into something more--a story, maybe, of all the people who have ever lived and perished from this planet. Of all the people who were left out of the history books, like the swimmers who placed behind Michael Phelps in the Olympics or the second man to walk on the moon.

Mrs. Guildford turns herself around until she is looking straight into my eyes. She's a nice woman. And now I am laughing because it's just so ridiculous. I'm laughing and she doesn't even notice my guffaws are directed at her so she just smiles and thinks to herself, "Oh, poor child." But I am laughing at her hysterically, and I just cannot stop. We drive by more and more houses, and I want the people inside to hear me laughing and to start laughing with me. But my eyes are all watery and the houses we pass turn into blurs.

She looks at me, still smiling. And I see her swelled up face and the way she tried to cover it up with pink lipstick and pink lip liner and pink blush. But she can't fool me. I want to shout it out-- Mrs. Guildford is the fattest woman on the planet! You can call her nice or sweet or say, "I'm sure she has a great personality." And all that may be true. But she's also fat, and that's even truer. So I laugh and laugh and laugh.

"Don't worry," she says. "Things are going to be much better this time."

So I laugh and laugh and laugh.

"This is a nice family," she says, and my laugh quickly turns into a grin and my grin quickly into a deep breath and my deep breath quickly turns into a cold, hard stare.

"And you'll be going to a good school," she adds, but I'm not listening anymore. I press my face back up against the window, and soon the houses that were once a blur become clear again.

" And everything will be alright."

I can't help but notice all the people in the windows as we drive down the street. A little girl twirls around in circles with a huge smile on her face, a cat curls up on the windowsill, and a chubby boy sneakily reaches his hand into the cookie jar. I watch them, but as they start to notice me back, the blinds fall shut one after another. And just like that, they have left me behind. I'm just a girl passing through on her way to a better life that won't be better, to a nice family that won't be nice, and to a good school that won't be good. I'm just a girl driving by.

They'll never know me.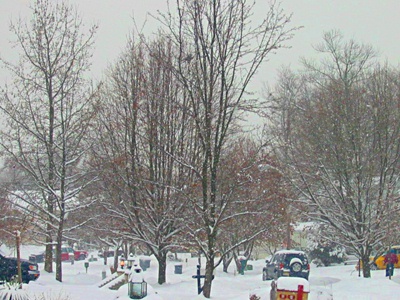 © Kristen S., Sewell, NJ