No Such Chance
May 15, 2011
It's the subtle differences, the details we deem insignificant, that make up the big picture. I always thought I knew what was best for me. I'd always believed that I was smart, cool and collected, to not be distracted or even depleted by anything or anyone.
Then Miller moved back to town.
Our history is wilder than the terrains of Africa, filled with beauty and horror. It is more concrete than New York City, yet softer than the plains of the Midwest. There is no telling what will come out of knowing Todd Miller.
Of course, I can be the smart girl and avoid him completely. I can walk down the hall with a simple nod and quick smile, then be on my way without a care in the world.
But there is no such chance for me. Two minutes before second period, and I'm digging through my locker for my history textbook. I feel a shadow over me and I must turn.
Green eyes and a cocky smile greet me. "Hey, Penny," he says. Oh, my God. He's hit puberty.
I smile quickly and turn back to my locker. "Hey, Todd." Shoot. My voice cracks.
I hear a quite smirk. "You haven't said anything to me. I've been here for, like, a week already."
"I know."
"Then what's with the cold shoulder?"
"It's December."
"Hilarious." He leans against my neighbor's locker. "You're still mad, aren't you?"
"That you cheated on me a week before you moved, then kissed my sister---therefore, cheating on three girls? No."
"I can see you've moved on. Do you know Sarah Bilson?"
"No."
"Oh. I'm dating her."
"And?"
"Thought you should know."
"Why should I know?"
He just laughs.
"What exactly is so funny?" By this time I have to look at him. He's the first boyfriend I'd had who had been a total jerk. He was the first boyfriend I'd had, period.
"Sarah Bilson was born into being ten seconds ago. I knew it'd bother you."
"So, then, what do you want?"
"Go out with me tonight."
I cross my arms, guarded. "Why...?"
"'Cause you'll have fun?"
"I highly doubt that."
He lifts an eyebrow. "You don't like fun?"
"I don't like you." I turn back to my locker, then I see my textbook peeking out from under my coat. I grab it, get Miller to move, then slam my locker shut---a little too loud. "I'm going to be late."
"Want me to walk you to---?"
"No. Leave me alone." I walk away faster, not turning back.
Oh, the joys of a young adolescent. I consider it a dry-run of how real-life is going to be. High school is the ultimate training ground. Survive a few mean bosses, no pay-raises, and some broken hearts, and you're most likely to get by.
All this I have learned from dating Todd Miller.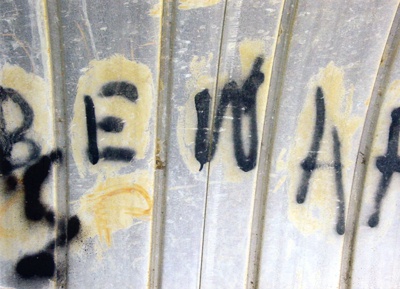 © Chris P., Highland Village, TX