Avel Flynn's Happy Ending
May 20, 2011
Do you ever feel like you just don't fit in? This is my story, and let me tell you about myself. My name is Avel Mariah Flynn and I am from the Bronx in New York City. I am 15 years old, and I moved here three and a half months ago. I don't go to school because my family can't afford it. The closest school is Bronx private school, which is two blocks away, and the closet public school is an hour and half by walking, and hour by subway. I'd go to public school, but we cant afford the fees of going by subway. We're lucky enough to keep the food on our table.

My dad left my mom when I was three years old. It's been basically just me taking care of myself. After he left, my mother started to become very depressed and started to not care anymore, saying I was a mistake being born. Sometimes I'd think it's true because I'd never get to be like the other kids; who get to go to school, learn to read, or learn to write. Sometimes I just wish that I could be one of those kids.

I had met a boy, his name was Jayden. Jayden was cool, he made me feel like I could be somebody. Jayden just moved to Bronx too. Jayden and I started spending all the time together. I felt bad for him because his family couldn't afford to send him to school. Then I got thinking, my family can't afford to send me to school either. My mom would always ask where I was going and wondering why I spend all my time out of the house. I'd always ask her, "Why would you care?"

Jayden taught me some stuff that I'd never learned. I'd seen many kids before do the stuff with spray paint on the walls, but always wondered how to do it. Jayden taught me how to do graffiti. He taught me all the different techniques of using the paint, how to place your wrist while painting, and how to make the letters a special type.

He started with showing me how to write graffiti, and then we moved to a wall in his house. His bedroom was full with graffiti, but one wall I noticed was blank white.

He said to me, "That wall is for you."

"Okay," I said as I started to paint.

I painted and did all the techniques that he taught me. He kept reminding me to check my wrist and make sure that I was holding the bottle right.

" Try your name," he said as he was painting his.

I started to paint my name. When I finished Jayden said, " Let's go down to the Ice House Cafe."

We walked down to the cafe and talked and laughed together. I'd never laughed so hard in my life before. We looked at all the beautiful graffiti on walls, trains, and so much more. On the way down to the Ice House Cafe, he pulled out a camera and said, "Go stand next to it, I'll take your picture."

I noticed it was a wall that said "Live, Laugh, Love." I stood in front of the wall as he took my photo and smiled. I looked down and noticed in a fine thin black line it said, "Jayden Caleb." I looked at it and smiled.

When we got down to the coffee shop we got a table, and the waitress came over and said, "My name is Aille, and I will be your waitress today, can I start you two off with some drinks?"

I looked at her and said, "I'll have a hot chocolate, please."

Jayden looked at me and said, "Make that two, please," as she left.

I stared out the window, watching the world pass me by. I watched the people beside the window walking down the sidewalk.

By the time I came back to reality my hot chocolate was beside me. I blinked four times to make sure that I wasn't dreaming, I wasn't. I sat there and sipped my hot chocolate and teased at the hotness and backed away.

" Waiter," I called as she walked over. " Could I get a to go cup please?"
I watched her as she walked away and looked at Jayden and smiled.
We payed for our hot chocolates as we walked out. I started to think as I walked down the street and noticed that Jayden was holding my hand. I smiled once and pulled away and drank some of my hot chocolate. He grabbed my hand again and smiled.

" I like you," Jayden said.

I looked pale as people passed me on the sidewalk. I thought about what to say and wondered if I should tell him the bare truth. I blushed, but soon became pale again.

"I like you, too."

Jayden smiled and kissed me, and whispered, "I don't like you, I love you."

I smiled and walked back down the street. When we got back to his house we started to do some graffiti on the walls. He wrote "I love A.M.F Forever." I looked at his drawing and smiled.

Four years later we were both nineteen and still good, good friends. I sold some of my graffiti paintings and finally raised enough money to go to a good school. I went to NYU for their art program and became a professional artist. At the school a lot of people always ask me to graffiti something for them.

Jayden finally got his wish. He proposed to me yesterday, on Valentine's day. I said yes. We are planning to get married on the beach in July. Oh yeah, did I mention? I'm pregnant. Ha, ha looks like there's going to be a Jayden Jr. He is due in December. I'm happy with my life now, and I plan to give my kid a better life than what I had. I want my son to do better in life than what I did in my childhood.

If you work hard at something you can do anything. My name is Avel Mariah Flynn, and this is my story. I moved here four and half years ago; I'm happily engaged, and with child. I am SOMEBODY.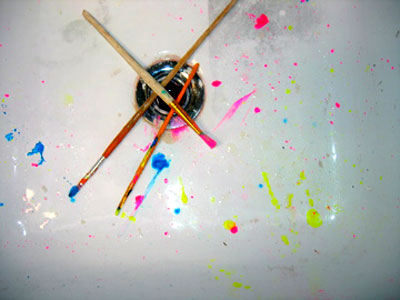 © Chelsea H., Carlsbad, CA