Honesty
May 8, 2011
It was a warm August afternoon. I was sitting in the field behind my house. The grass was cool beneath me. The sky was light blue, decorated with small, white clouds. There was a light breeze flowing over the field.
A couple walked by. They were swinging their clasped hands & talking animatedly to each other. They each had a huge smile on their face. He had light blond hair and icy blue eyes. She had long, jet black hair and electric green eyes. A mismatched couple. They both walked past, kissed and then continued walking. They walked to the edge of the field and disappeared into a housing estate.
It was a mere half hour later when i decided i was going to head on home when i saw that boy again. Same hair and eyes. His hand was still holding onto a girl's hand. They were coming out of the housing estate. They were going back the way they came.
As they walked closer to where i was still sitting, i noticed something. It was a different girl. This girl had short, curly, red hair. It was definitely the same boy.
Then, they paused, kissed and continued walking, just as that boy had done with the other girl a half hour ago.
As human beings, we have become very dishonest and greedy in recent years. I'm not sure if anyone is honest anymore. Does real love even exist anymore ? I sighed, packed up my things and left.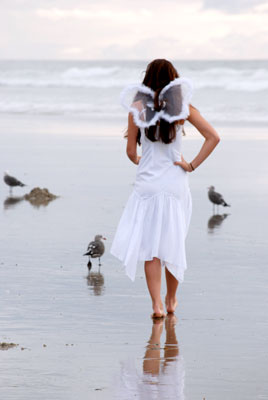 © Junia Z., San Diego, CA