The Note
May 5, 2011
The white sheet of paper which I hold in my hand has became so crumpled in one hour. The sweat from my palm makes it even more difficult to read. But I don't need to read the paper again. I already know what it says: Kathy, will you go to the prom with me?

No one expected Tristan Harris, the hottest senior in school to ask his chemistry lab partner, an invisible junior, to the prom. It came as a shock for me when Tristan passed me the note. I was staring at my notebook in chemistry to make sure he didn't see me looking at him. Then I felt him lightly tap my shoulder and pass the note. Instead of the usual formulas or occasional last-minute test hints, all I saw were nine words which I never expected to hear---in this case see--in my life.

My response surprised everyone even more. After reading the note in chemistry, I mouthed, "I'll tell you tomorrow." He understood, but unfortunately Nicole Robertson, the girl with the biggest mouth in the school, did too. By English next period, I could hear everyone whispering, "What's she going to say?"

If it weren't for Bianca, I might have jumped into his arms and screamed, "Yes!" A girl with breakouts on every inch of her face had little chance of going to prom with a date. Once I cried hours over a boy I couldn't have, but now I don't care anymore. Date or no date, I was going to Senior Prom next year if not this one. A boy wouldn't change that.

But Bianca could. Bianca was the typical tall blond cheerleader who happened to be my best friend since third grade. She had taken more APs than anyone in the school and was in five sports to top it off. And she had everything I'd ever wanted. The perfect looks...the perfect life. And the perfect personality. She was modest to the point that new students in our school took her as stupid. There was only one thing I had that Bianca wanted: Tristan.

Why did it have to be Tristan? Why did Tristan have to be the boy Bianca had flirted with for three consecutive years? Why did Tristan have to be the boy Bianca wanted to go with for Senior Prom? The one boy I had started to like was the boy in Bianca's dreams.

But Bianca has almost everything I wanted: the looks, the personality, the brains, everything. Tristan is the only exception to her collection.

"Why are you sacrificing for her?" a voice inside me whispers.

She's my friend, I think to myself.

"Has she ever given up for you? You deserve more than this, you know."

Eight years of innate jealousy spreads in my body. Why do I have to give up for her, the daughter my parents always wanted? The girl who had boys' heads turn in her direction. Why should I give up what I wanted?

Then I open the locker I share with Bianca and realize why: she would have done the same thing. Photos of Bianca and me decorate the locker walls. I see Bianca laughing with me, Bianca hugging me when I cried, Bianca with her arms around me on my sixteenth birthday. It takes a while to realize these images aren't in the photos; they're in my memories.

I'm going to say no to Tristan. I'm going to throw away the one boy who's ever liked me and I liked back. Maybe I would send him an email and save us both embarrassment.

Then I notice a yellow post-it note in my locker:

Kathy,

Say yes or else...

Your BFF :)

Then I knew everything was going to be all right.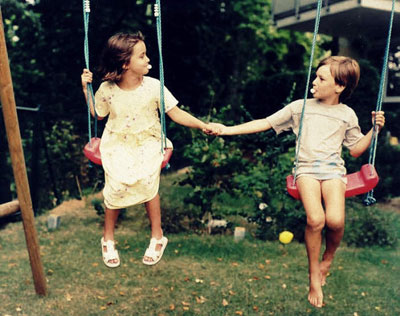 © Lauren K., North Kingstown, RI