One Moment
May 4, 2011
The waves ripple through the water creating a gentle breeze. As gentle as it seems, it is indefinitely bone-chilling. She leans over the railing of the small bridge and looks down into the clear blue water.

She can't imagine what the creatures that call the lake home must feel. The beauty surrounding them must have some effect. The fish must be more agile; their swim more graceful. Even the snakes are most likely lightened, filled with serenity.

They are lucky if it so; no amount of beauty can or will ever calm the hurricane within me. The water creatures have a place to call home. Others are always around; their presence somewhat comforting.

Whereas she, she has no home; no comforting sight to be found anywhere near her. Her soul is tormented, internal warmth never found.

"Mommy!" a child yells from down the pathway.

She walks to the boy, her own son. He looks just like his father, the man who scarred her permanently those seven years ago.

It's not that she doesn't love her son; in fact, she loves him more than anything and as much as she is able to love. The tiny, innocent boy reminds every minute of her hurtful past.

She picked him up, letting his head rest on her shoulder. Even though he was almost seven, he felt no heavier than a sack of flour. She felt so much guilt for not being able to give him everything he needed.

"I'm here, Gabriel. I'll always be here," she said, rubbing his back.

The little boy couldn't see the tears forming in her lifeless eyes. He didn't see or know a lot of the things she did.

He didn't know that every night his mommy injected a needle into her neck, the only place she could still find a vein. He didn't know that she rarely slept, always on guard and watching her little boy as he slept on the cold, hard bench in the park.

She couldn't remember what happiness and being carefree felt like. She hadn't felt them sense that day those seven years ago.

Her boyfriend Todd had been everything she wanted and needed.

He was always by her side, no matter the difficultly of the issue at hand. He accepted her pregnancy with thrill and impatience. He said he was ready to be a father and grateful for the opportunity to become one.

He was there the whole time, always by her side and making sure she had everything she needed. They were homeless, but he always made sure they got a bed every night in the shelter a few blocks away.

She went to the free clinic for check-ups; neither of them had a job. When her water broke, she went to the hospital in an ambulance. Todd was there the entire time, holding her hand every moment it was possible.

Todd wore the scrubs the nurses had given him. They had not been able to get an ultrasound because they couldn't afford it. She had kept her eyes closed throughout her labor.

Todd had squeezed her hand, kissed her forehead, and whispered into her ear, "It's a baby boy, Mariah."

He'd even cut the umbilical cord, smiling the entire time. Those moments were the best in her life, yet they were destroyed in that one moment.

Gabriel was only a few weeks old. Still, they had no home or income. They were at the local library researching programs that would help them support their new baby.

Gabriel was fast asleep in his hand-me-down car seat from the thrift shop. Mariah was engrossed in the information she had found. Todd was blankly staring at the computer screen in front of him.

"Hey, I'm going to go smoke. Do you want to come?" he had whispered into her ear.

Mariah shook her head; she was trying not to expose Gabriel to a lot of smoke.

"Okay, I'll be back then."

She looked into his beautiful eyes, "I love you."

"You too," he grinned.

"Can you wait a minute? I just need to log off really quick and then we can go somewhere else," she pleaded, wanting him to stay with her.

"I'll only be gone for a few minutes," he said, kissing her on the cheek, "Only a moment."

She smiled at him as he turned around. She loved Todd with all her heart, all the love a girl could have and give.

It's been seven years since he went outside to smoke. One moment seems like forever.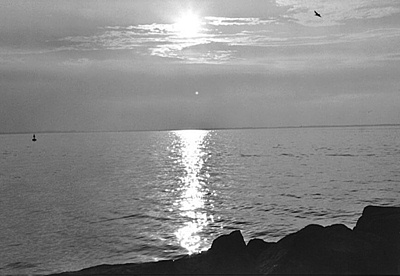 © Amanda L., Cumberland, MD