Color Choice
May 4, 2011
Flipping through my recent journal entries, I noticed my ink color choices have all changed to one color: black. My ink color choice reflects and represents my mood. But… black? Black is my least favorite color, a color of endings. The other shades of the rainbow leave room for possibilities and joys, but black leaves no room for anything but darkness. It's the color of my recent and everlasting depression, looming over my head and settling its weight on my shoulders. Only the joys of my life and color could lift me out of that.

Then my eyes fall on one specific entry, scribbled messily in purple ink. Judging by my handwriting, this was written late at night, probably when I should have been sleeping. I'm confused for a moment at the color choice. Purple is my favorite color, reserved for the happy moments in my life. The surrounding entries are in black. Then it hits me- that was the day I had received praise in my clarinet playing and my Pointe work, the day when I realized what was emotion I had felt for the past few days- depression.

I flipped the page, resting my eyes on an entry in angry fire-red. Oh. That was the day when I was frustrated at my scales. Reading on, I noticed that I had noted to work on my ankle and foot flexibility. I must not have been pleased with my footwork that day either.

Green. It's the color of my New Year's Resolutions and the day I got my report card. Green means, "Go! Work, work, work, work! Get those grades! Get that flexibility you wanted!" Go figure.

And then there's dark blue, the color of sadness and waiting. It's the only color I wrote in for a week after waiting a month to work up the courage to ask a guy for his number on the last day I would ever see him again. I called him and asked him to call back. That week, I waited and waited, only to be flooded with a feeling of sadness. He never called back.

But it seems like most of my entries were in purple. Purple is a color I can get lost in forever, just writing, dancing, and playing. But all the same, a life needs color. Because a life without color is the same as a life in just black, isn't it?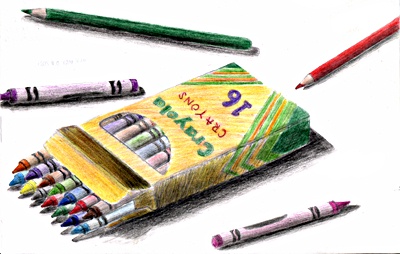 © Dana H., Wichita Falls, TX