Suburbanism at its Best
April 30, 2011
A girl stood on the edge of the gum stained highly littered sidewalk. Her hair was bright pink and choppy and her eyes were heavily rimmed with black. She nodded at the teenagers leaning up against the motel across the street-smoking weed. A mother drove her pregnant teenage daughter to the hospital.
The street was lit by the neon "A** Station" sign. It had previously read "Gas Station" before the "G" went out and the local teenagers added an extra "S." A car sped by, the drunken driver ignored the "Stop War" Sign- courtesy of the hippies- and then- the bus came and picked up the girl.

You will notice that there was no climax to this story- not in this girls life anyway- that is because there isn't always. If you're seeking adventure you can look through the eyes of the young mother, or a teen the drunken driver may have hit-- but for now you should remember- This is suburbanism at its best.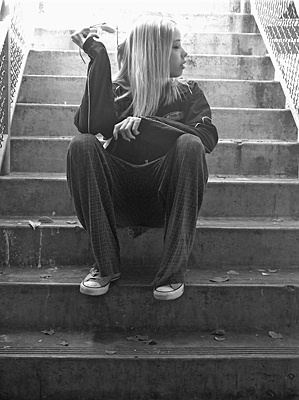 © James M, Walnut Creek, CA