Mere Words
April 28, 2011
"He stretched out his arms to heaven, crying out for deliverance from it- and there was no deliverance, there was no power even in heaven that could undo the past. It was a ghost that—"

Something wasn't right. I set my book down at the branch beside me and looked down at my reading partner. He was lying on the grass with his hands behind his head and book over his face.

"Jayce!" I yelled, but he didn't move an inch.
"Jayce!" Still nothing.
"Jayson!" I threw my flats at his chest.

It was a Saturday evening during Summer Vacation. The weather was warm and cloudy with a slight breeze. I spent my time reading a book with my classmate, Jayce, on our school's campus. It obviously wasn't going well.

"God, Shea…" Jayce mumbled. He stood up and fixed his polo. Then, he grabbed his chest and winced.

"Sorry," I shyly said, "I called your name like three times. We need to finish this chapter."

He lifted his arms in frustration. "This book is so stupid! It's possibly the most boring book I've read in my whole life!"

"I know," I sighed, "But we seriously have to finish this."

The Jungle was pure torture to read. It was our assignment for Mr. Sharpe's class next school year. "Read the entire book for break," he said. To make it much more "fun", he assigned us reading partners.

"Can we just take a break? We've been reading for the past two hours and only passed like thirty pages." Jayce looked up at me for my approval.

"Sure, fine, "I stated, "Can you hand me my shoes?"

Jayce quickly got a hold of them and tossed them up to me. After putting them on, I grabbed my book and started heading down the oak tree. It was tricky. At one point, I placed my foot where I thought there had been a sturdy branch. It snapped and I lost my balance. Without a second thought, Jayce held out his arms and caught me. We both tumbled helplessly to the solid ground.

"Sh*t." I whispered and quickly rolled off of my classmate. I was still lying in the grass when he inched closer to me. I sat up.

"You okay?" Jayce took a good look at me to make sure I was alright. He then glanced at my face for an answer. I could feel my cheeks burning up and felt like crying, so I just shrugged my shoulders. Jayce had a hurt look in his eyes.

"Shea, you don't have to feel bad," he explained, "It was just an accident. Everyone has moments like that."

I gave out a sigh.

He's probably just saying that…

"Here," Jayce gave me his hands and pulled me off the ground, "Let's leave."

"Where are we going?" I asked as I adjusted my tank top and denim shorts.

He suggested we go to Starbucks. It was about a mile away from the school, so we gathered our stuff and walked there. Unluckily, there was an awkward silence between us for about twenty minutes. Jayce hesitated but finally broke the silence.

"Hey, you have a really nice necklace." He held the silver "S" pendant in his hand.

"You can have it if you want." I said.

"You sure?"

"Yeah, I don't want it anymore."

It took me a while for me to convince him to have it. "Just keep it to remember me by." I told him.

I handed him the necklace.

He smiled and carefully slipped it in his pocket.

……………

When we got to our destination, we chose to sit at one of the tables outside the shop. I've never been to Starbucks before, so Jayce ordered for me. When we got back to our table, we had a small conversation about which flavor was better, chocolate or vanilla. As I was defending vanilla, Jayce had developed a weird look on his face.

"What's wrong?" I asked.

"Shea, I need to tell you something." He set his drink on the glass table.

Oh God! He wants another partner! I'm such an idiot!

"I begged Mr. Sharpe to make you my reading partner."

Silence.

"So I can apologize to you." He clarified.

"Apologize for what, exactly?" I asked.

My anxiety level shot up.

"For being such a jerk to you in the past…" His face turned crimson.

What?! Did I really just hear that?

Middle school for me was a social h*ll. I had been left painfully shy and soft spoken from previous years of verbal bullying by my peers, and my new ones just made my life ten times worse. Most of them used me all the time and told me things like I was "ugly" or "worthless", including Jayce. A couple of years later, however, something was different. Most of my classmates actually stopped bullying me. They talked to me. They finally liked me. We were growing up. This actually allowed me to break out of my shell forever. It took me three years, and I was thankful. Even though my classmates now treated me like a person, however, it didn't take away the scars they left me with.

At this point, I hadn't realized I spilled my drink all over the table. I pushed myself farther away from it, and Jayce stood up. He kneeled in front of me and gently took my right hand into his.

"I was so stupid!" He exclaimed, "I was caught up with popularity like everyone else, and I wish I could go back in time and take back everything I ever said to you! I mean, honestly Shealana, you are the nicest person I've ever met. You always do the right thing. You're smart. Plus, you're absolutely beautiful. You have the prettiest smile, and I know this sounds so like a girl, but your eyes shine when you do. You always smell nice. You have the most amazing accent. You're funny and have the cutest laugh. I know there's no such thing as being perfect, but you basically are the closest thing to it."

Jayce had to catch his breath.

I was at a loss for words.

"God, I hurt you so much, and I can't live with myself, knowing that I did all that to you! I'm so, completely sorry! Can you please just forgive—"

I jumped out of my chair and wrapped my arms around his neck. He put his arms around me and we embraced each other for the longest time. People around us gave us dirty looks, glancing at the spilled Frappuccino all over the table and my overturned chair, but I didn't care. For once, I had all the confidence in the world.

……………

Later that night, I took my Nike shoebox out from under my bed. I walked outside, pjs and all, to my backyard. Since nobody was home, I lit up our copper fire pit. Without a second thought, I tossed in the shoebox.

In it?

A six and a half foot piece of nylon rope.

Two things I wish I could tell Jayce?

Thank you. You saved my life.

And…

I really want my necklace back.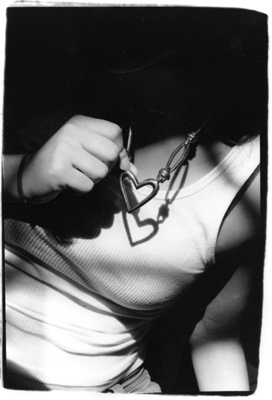 © Julia R., Bethesda, MD