Lightning-Stained Window
April 11, 2011
I look out the window with my blue eyes, and see a spotless sky of the same shade looking in at me, almost begging me to step outside and greet it. An urge I myself have, but one I cannot act on because of the prophecy of the weatherman. "A cold front shall move in and create cumulonimbus clouds..."

I touch my hand to the windowpane, feeling for a change in temperature, feeling the heat that reminds me of the humidity of summer, then, suddenly, feeling the tendrils of cold wind suck up the heat from the glass and barrel onwards. Listening with my ear against the glass, I can hear the west winds driving the mass of cold air through town, passing my house and many other houses where people are not alone, not afraid of the chilly dark rain-bullet world. The wind seems to whisper, "Defeat the warmth, and create cumulus, cumulus, cumulus…" as it pushes forward, as though it knows its cold purpose, its dark destination.

It takes over my world, moving for no one, forcing the billowing, humid air up, up, up, forcing the water vapor cool, cool, cool into a cumulonimbus cloud, a cloud which fights its way down, down, down, a battle that happens over and over again until tears come rushing out of the deep dark heaviness of the towering cloud. And then I see that even now it is too late to find safety and companionship, to step outside into the electric air. I cannot even to drag my eyes from the deceiving placidness that carries on, through the thin invisible sheet separating me from the pellets of rain I need to wash away my fear.

I sit trembling inside the mature thunderstorm, my sight caught in the distance, my tears caught in my throat, my mind caught on the timer of the thunder. A flash and a two-second count and a crash as the electrons in the earth and the sky overload and send their fury away: to the clouds, to the trees, to the hiding sun. The friction of the tiny atoms blow out of proportion into a resonating strike, an evil hatred, repeating, repeating. Retreating? Disbelieving, I step away from the lightning-stained window and squint into the outside world. Hardly believing my senses, I tentatively step out the door, my sweater pulled tight across my body, daring to face this small moment of the storm. I stare at the scene of gentleness overshadowed with the lightest of raindrops, and I sigh as even the last of the rain dissipates into the clear sky, the clean ground. I think of the beauty of nature, how safe I could feel inside it, a prophecy I want to be as true as the weatherman's temperatures. Looking up to the blue blue sky, I see that it reflects the exact color of my lit up eyes.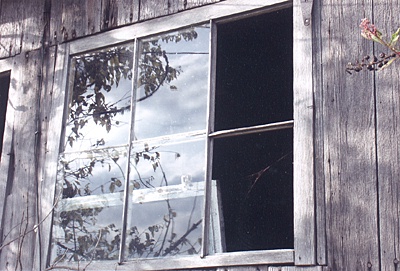 © Cassie H., Carmi, IL