The Bullet
April 25, 2011
She could not have been more than four years. She was only an infant. She was healthy and lively and knew nothing about death. She moved about happily and made the life of everyone so easy. Death seemed so far away from her. She looked so beautiful and sweet when she smiled. But that day when I got back from school, I did not hear her usual cries. Birds parched on the trees with tears in their eyes. The house was quiet and all I could hear and see were the wailing of my astounding mother. In her eyes, I saw her furious at Natural happenings which gives no answer to always question…why? In the corner, I saw my sister with tears in her eyes as her mouth ruminates in fear.
Dad who I have never seen in tears had bow his head and pains of regression rained down his cheek.
Suddenly, my heart began to accelerate faster and I began to shiver. "What could have happened?" I kept wandering. Then my sister stood and run to hug me a brotherly love hug and said, "She's left us?"
"To where and to whom?" I asked. she replied with tears trickling down her cheeks, "Karen is dead!"
"No, no, this can't be!" was all I could say.
When I remember my elder sister's word, it brought pain to my heart. Karen is dead and gone forever. I can't bring her back and no one else could. We were all mute and hardly could we accept it though.
There came a very tall gentle man dressed in long black robe. "Osofo (Pastor), you're welcome." I heard Mother called him. He prayed for Little Karen, who was dried in white kaba. I stood still and sad. Then came Auntie Kuku, the old woman who washed her cold body and dressed her with a new white frock. They said, "She died so young." She was not laid in state because she was very young and our culture doesn't approve of that. They put her in a white coffin. As the men drove nails into the edges of the coffin, I felt the nails rock my heart in blood. I couldn't' stand it and rushed to throw myself into the pit she was going to be buried. With the strong men, they pulled me out and my father tied me hard with her hands. They say she left nothing in the world, but Little Karen left a bullet in my heart that I'm fighting to remove it.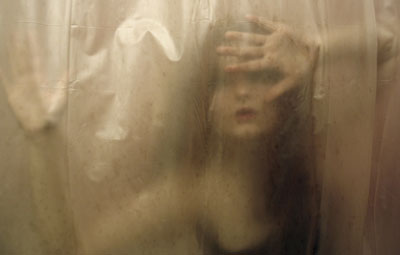 © Emilie E., Tecumseh, OK