Blackbird
April 1, 2011
Laura was laying in her bed. It was ten AM, making it seventeen days and fourteen hours since Rick had left. Left her alone in her bedroom, her apartment, alone in New York City.

It wasn't like she was a little girl, abandoned. She was twenty years old. She had a steady job and knew how to cook and clean and change a lightbulb. So, yes, she could physically survive without him. At times, that was her only reassurance.

Laura creaked upward. Her eyes, normally a bright blue, were puffy and red from crying. She ran her fingers through her hair. Eww. Major oil. It was time for a shower. Laura bent down to pick her bathrobe up off the floor, and then froze. The spot of blood on the floor, seventeen days and fourteen hours old.


"Laura! You stupid bitch, why aren't these dishes done?"

"I-I-I'm sorry Rick, I just didn't have time..."

"Oh, because you were busy talking on the phone? GET IN HERE and do these dishes!"


Rick bursts into her bedroom.

"Dammit Laura, I work so hard every day, and I can't come home to a clean house? That's it, I
am so sick of this!"

He shoves her to the ground, big mean man, and starts kicking and punching, and it hurts so bad, she knows it'll leave bruises, she wants her mother. Suddenly he kicks her nose and it begins to bleed. It drips onto the floor. He stops. She cowers and shakes on the floor.

"That's what you get for making me angry."

She never saw him again.


Laura snapped back to reality.


She grabbed her boombox and went into the bathroom. Laura was one of those people who liked to listen to the radio while she showered. She tuned it to a happy oldies station and turned on the water.


"Goooood morning Vietnaaaamm!" said the corny radio announcer. "Ha, I'm just kidding folks. It's about 10:15, 76 degrees outside, and overall, a beautiful day in NYC! Here's some Beatles for ya."


Laura chuckled. She loved corny radio announcers, especially Cole Miner from this particular station. She got some shampoo in her hand and began to wash her hair as The Beatles came on.


"Blackbird singing the dead of night..."


She scrubbed some more.


"Take these broken wings and learn to fly..."


She froze.


"All your life...you were only waiting for this moment to arise."


Suddenly, she knew.


"Blackbird singing in the dead of night..."


It wasn't night anymore.


"Take these sunken eyes and learn to see..."


She touched her puffy eyes.


"All your life...you were only waiting for this moment to be free."


Finally...she knew.

She knew she was free.


This little blackbird flew into the 78 degree weather of New York City. She put on a cute little sundress and smiled a brand new smile. Her bright blue eyes were no longer sunken. Her hair bounced like it never had before. This little blackbird's broken wings were fixed. John Lennon and Paul McCartney were right. She was only waiting for this moment to be free.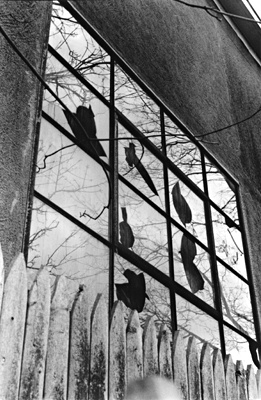 © Halsey S., Marblehead, MA