Black and White
April 4, 2011
I was the white girl. She was the black girl. I would press my face against the window as I watched her ride her bike down the street. My mommy said she was bad because she was black. She said she was dirty somehow. I watched her go down the street on her pink bike and I watched as she played ball with her dad. I wished my dad was alive, maybe then he could straighten up mommy and make her see that the black girl wasn't bad or dirty and that there was nothing wrong with her. One time I told my mommy,
"But mommy, maybe she just fell in the mud." My mommy just shut the door in the girl's face when she came to ask if I could play. I ran to my room and watched her run back to her house. She was crying. I locked my door and wouldn't come out all day, even when mommy bribed me with ice cream, my favorite food. I was mad at her, she made the girl cry.
I watched the black girl a year, until I found out that her name was Alisha. Then, when I turned 7, I would sneak out while my mommy was taking naps and we would play together in the fields behind our house. Alisha's mommy didn't like it the first few times because she thought I didn't like blacks either, but I don't see a difference. Alisha talked differently, but it was good different, because my uncle from England talks differently too. My mommy didn't like it when she found out we were friends; but no matter how hard she tried, we always found a way to play outside together.
"Alisha," I asked her when we had turned 8, "Why don't people like your skin? It looks like chocolate to me. It's a nice color."
"I don't know," she said as she rolled onto her stomach (we had been looking at the clouds), "It's not my fault I'm black. Did you choose to have blue eyes? Did you want 2 feet and 2 hands? If you wanted 5 arms, is it your choice?" Then I had an idea.
"Alisha! What if we go to school tomorrow and I paint myself black and you paint yourself white! Then it would be a choice!" She looked at me like I was crazy.

"Wouldn't your mom get mad?" She asked.
"Oh who cares. For years she told me blacks aren't the same as whites. But when you get a cut, you cry and so do I. I don't know any animal that does that. And when you lost your puppy, you walked around school with your head down. I did that too when my dad died." I paused to wipe my nose on my sleeve and Alisha handed me her daisy-chain to cheer me up. "Thanks," I said, "When you got best picture for the art contest, you ran around the street smiling and laughing and I do that whenever I get ice cream. You have eyes, I have eyes. You have a heart and I have a heart and both our hearts can be broken. If I were color-blind we'd both be gray."
"I don't get it either," she said quietly, "My mom says beauty is what's on the inside, not what's on the outside. I know a lot of moms who say that and still say I'm bad 'cause I'm black. I don't know how they explain it to their daughters that what's on the outside doesn't matter but skin color does. I guess people just ignore it 'cause they don't wanna think about it. I say we should do you idea. I've got extra paint, I'll give you some."
The next day we went to school covered in paint. My mommy was crazy mad, but I ran out the door before she could get me to wash it off. Alisha and I went to school arm in arm. Now I was the black girl and she was the white girl.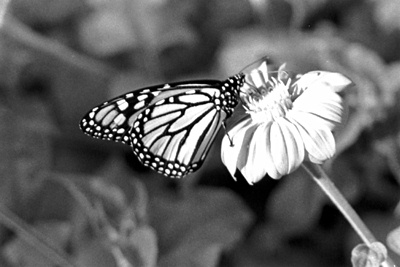 © Lindsey Dennis, Marblehead, MA