Don't mess with my friends
April 9, 2011
"How can this day get any worse?" I asked the sky, which promptly began to lessen its down-pour. "Spoke too soon," I muttered. I heard laughing from behind me. It was those girls. The same girls who almost trash-canned me earlier today. I walked faster until I could no longer hear their continuous jokes and snide remarks.
"What are you looking at, dip-wad?" I heard an angry voice say as I turned into the hallway. I almost turned around to march myself the other way when I looked up to see my best friend, Jake, slumped against the wall, not three feet away from the speaker.
"Hey!" I yelled, "Leave him alone!" I began to take long strides over to them. My fists were turning white and my face red with the anger boiling inside me.
"Ooh. I'm so scared," the speaker taunted, "What are you going to d, pipsqueak? Talk me to death, maybe?" He laughed very hard at that, which brought a small crowd at the end of the hallway. I'm so scared," he teased.
"No," I whispered, and punched him in the face. I broke his nose, and we both ended up with suspension. It was well worth the trouble, for me. You don't mess with my best friend.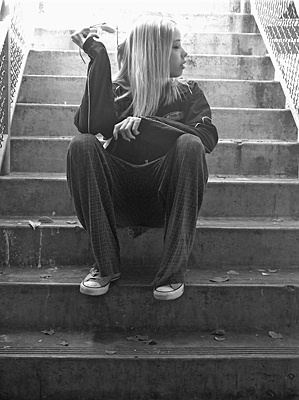 © James M, Walnut Creek, CA