Swinging
April 13, 2011
He runs his hands through his dirty blond hair, seemingly cut solely for the purpose of being held back by his sunglasses. His hands are rough and strong from all the sports he played in high school, his nails are bitten short form all the nights he lies awake. His eyes scan a line, trying to make meaning out of it. He reads the line again. His eyes are a blue gray so transfixing that it is hard to look away long enough to see the rest of his face. His lips are pink and chapped, his jaw is defined and he hasn't shaved for a few days. His cheekbones are high and flushed a rose pink. His nose is prominent, his worst feature but it fits him all the same.

He is leaning back in his chair, perched precariously. He doesn't seem to notice the danger he is putting himself in, and subconsciously takes a sip of his apple juice. He runs his tongue over his teeth. He's mesmerized by the text in front of him; it seems to match exactly with the world he lives in, as if it is crafted around the knowledge, the belief in his eyes.

He lays the book down. He walks over to the window slowly, thinking about every step. Thinking about what has just clicked into place in his mind. His walk is both awkward and graceful. His thin frame is oddly stiff, but his feet seem to glide him a long. He walks with his head held high, slowly but deliberately, as if he is sure of himself, though something underneath says otherwise. This caught-in-between appearance shows on his face – he knows he doesn't belong and is oblivious to his oddities in the same moment.
He grunts quietly as he opens the window, its slightly stuck at the bottom. The window has no child guard and he climbs out onto the fire escape easily. He shuts the window behind him, blocking his own re-entry. He swings his legs over the side, and sits, hovering over the world. He's always been fascinated by heights, for as long back as he can remember he has been afraid of them. Now he feels the rush of adrenaline as he looks out over the city. His city. He frowns at it, questioning it with his naïve eyes, trying to work out the connection between his knowledge of the world and the dirty brown stones lying in front of him.

He grabs a hold of the bar in front of him and swings himself off of the platform he is sitting on; he hangs on to the bar - the only thing that's keeping him from falling three stories. Down to the earth. After a minute of fear, he swings himself back and forth, screams in a childish manor. And then, with reluctance, and relief climbs back onto the platform, and back into his apartment.

He finds something leftover in his fridge for dinner and doesn't care that it doesn't taste good anymore. He picks at it and then pushes it aside. It is already getting late, the sun has set hours ago and the moon is creeping up past the skyscrapers. He feels the usual rush of nostalgia as he washes the dishes. He picks at a hang nail. A tear seeps down from the rim of his eye. It feels cool on his cheek and hangs onto his nose for a moment before plopping down onto the kitchen counter. He stares at it. His heart doesn't ache, his chest isn't tight, he isn't really crying.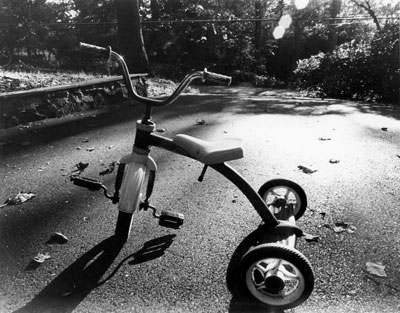 © Emma C., McLean, VA