Once may came
April 13, 2011
His name was Andrew; he had short dark onyx black hair and green eyes that could pierce through cement. He was one of the "cool" kids never seemed like he would even taken a notice to me. However over the summer between junior and spring break he did take a notice to me. My uncle hired him to work at the old family hardware store. The same place I worked making deliveries. I can remember the first conversation we ever had

"Hey you! Don't I know you from somewhere" that was the first thing Andrew Parker ever said to me. The rest of that summer, well that's history. He started joining me on delivery runs and soon we were hanging out after work. One night in Early June he was in charge of closing up shop for the night, right when he was staring to turn off the store lights I came returned from my final delivery. His eyes seemed to be the lights guiding me through the dark store to him…that night was the first time I had ever been kissed.

Soon we weren't just dating we were surviving with each other the air only tasted sweet if it was air he had breathed first. The flowers were only bright if they were flowers from him. Soon the sun wasn't what my world orbited around, Andrew was. Soon I was in love.

We both felt the feeling every teenager gets in the summer. That feeling of "I'm invisible" when really everything is so fragile. The calander soon changed to september and school was arriving, how would it look the cool boy and the farmers daughter? What would people say? My life was no 80's movie sometimes the poor girl dosnt get the rich boy. I still hoped however that come Monday he would hold my hand down the hallway.

Sunday night before school starts a single sentence text "This just isnt working out, sorry but its over". Why. was the only reply I could come up with. I never got my answer till the moring after. When I saw him walking down the hall way with a Girl named May who had been out of town all summer and had been his girlfriend since May.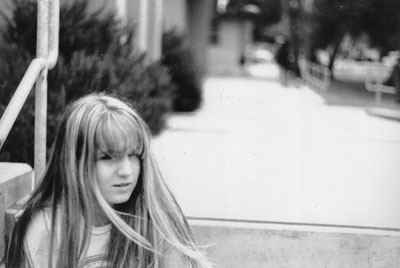 © Alyssa R., Pacific Grove, CA