Stupid Love
MAG
March 30, 2011
I dial and my hands are trembling oh-so-slightly holding the phone to my ear, as I wait for you to pick up and say hi, and I'm praying because this is really really important even if you don't realize it yet.

And the phone rings eight times before finally – finally – you pick up and say "Hello?" and your voice has that little question at the end that people get when they don't know exactly who is calling and they're a little annoyed but still being polite.

So I say, "Hi, it's me," and you kind of laugh and say, "Oh, duh, of course it's you. What's up?"

And for a moment I'm swept away by your voice, what I know you look like – your eyes, your hair, half-gelled and mussed from where you were sleeping on it. And I know that you've probably ruined yet another couch cushion with all that gel, and that this is why your mother knits those little cozies that cover the pillows.

And then you say "Hello?" again, like you're not sure if I'm still here, like maybe I've hung up or walked away because I really didn't mean to call you. But I did mean to call you, so instead I laugh and say, "Hey, I'm still here. Just had to think for a second," and you give that half laugh again and say, "Think about what, stupid? We haven't even started talking yet."

And what I have to say is so important that I laugh and forgive you for calling me stupid, because of course you don't know why I'm calling or how important it is.

But part of me is secretly hoping you do know why, that you've already figured it out and have a fantastic speech all planned so that as soon as I've fumbled my way through this first bit, you can sweep this whole situation away with your words and your voice like you always do.

So I cheat, kind of, and say, "So, I'm guessing you know why I'm calling …." And wait, holding my breath, hoping you'll fill in the blanks.

But you don't. You stay there breathing on the other end, not saying anything, and I start to doubt myself just a little, and still you don't say anything, and now I'm seriously worried. I know now you must need a bigger hint, a clue, so I say, "Well we've been hanging out a while" and "You know you're one of my best friends, right?" and "I'm really fond of you." It's a big nudge, really; how can you not see where this is going?

But still you're silent, so I take a deeper breath and curse you insincerely in my head for letting words fail you now when they never have before. And I clinch it, saying, "I really like you. I'd like to hang out more, just you and me."

I'm proud of myself for getting through this whole speech without any help, all by myself, nerves and awkward silences and everything.

You say slowly, stuttering, your voice dull and dim instead of bright and intelligent: "What are you talking about?"

I start laughing, thinking you're just pretending to be stupid to be funny, even though it's really not, and any moment now you'll cover up the awkwardness by laughing with me and saying, "Of course I know, stupid. I was just kidding."

But then you speak up again, all confused, and say, "Why are you laughing?" And immediately I stop.

For a long, tiny eternity I'm frozen, realizing you're not pretending, that maybe you really are just stupid. I'm horrified, and wondering, How could this have happened? and Could I really have fallen in love with a stupid person? And I'm confused, too, not wanting to believe it, wondering how you could sound so stupid after how brilliant you sounded in math class on Thursday. How could you stutter now when you have always armed yourself with words before?

You say "Hello?" a third time, sounding really uncertain, maybe a tiny bit afraid, and not at all smart. And I don't say anything, just hang up, knowing you must have been stupid not to have any idea this was coming.

And really, I can't be in love with you, anyway, or if I was, I'm not anymore, because God forbid I ever love a stupid person.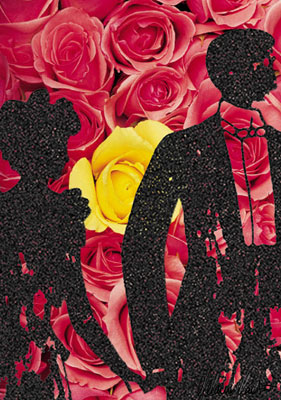 © Melanie M., Hendersonville, TN