New Beginnings
March 27, 2011
2005- Fourth grade. I was going to a new school. You know, one of the small schools where everybody knows everybody else, and newcomers are aliens from Pluto or something. I was in a new school because my family had moved, AGAIN. But instead of another apartment in the same school district, we moved miles and miles away from Apartment 101 in Ontario. I missed it already.
I may have not had many friends in school, but I had more than enough at home. The only reason I wanted to go to school is so that I could get away from the apartments and my sister.
Fourth grade was a terrible experience. I wasn't just AN alien, I was THE alien. Fortunately, it took them a few weeks to come up with a nickname that hurt.
They called me IT. I helped that along by chasing people away from me. They ran from me because I seemed to have some sort of disease.
I would always be reading somewhere by myself. I almost always had a book to read.
I tended to stay near the classrooms because noone liked to hang out there during recess. Not even the teachers, it seemed.
I had all of one friend that I made that entire year. She was new that year too. Her name was Katline. She liked basketball, even though(and maybe because) she was a little too short to play, even with the smaller hoop.
She was my only friend, until mid-fifth grade, when she moved to another school. I was devastated. I had to stay in that dreaded school until the year ended, at the very least.
During the last half of fifth grade, I made a handful of new friends. Most of them new that year, even that trimester. They were all guys. Even then, by the end of the year, I almost decided I didn't want to go to that school anymore. Noone really wanted me there, and I'd probably make more friends in another school.
The more I thought about it, the better and the worse it sounded.
I had the chance to try again, but I'd be the same, and the kids there probably wouldn't accept me there, either.
That was when I finally realized what I was going to do for the last three years in the dreaded K-8 school. I was going to watch them. To study them. See how they work. Then, maybe I'd throw a wrench into their system.
By seventh grade I had pretty much figured them out, but two girls threw a monkey wrench my way- they wanted to hang out with me.
It was quite strange for me, since I was a dignified and certified loner by then. I worked well on my own, and didn't speak in groups of more than three.
I hung out with the girls, as was curtisy, as far as I knew. These girls were Racheal and Mary.
I didn't like Mary very much. My mom and I always saw her future as being quite... colored.
Eventually I had more friends than I could count on my fingers. Everybody seemed to want to talk to me and include me in 8th grade.
In my mind, it was too little too late, but i was going to let them try.
Some of them are still my friends, now that I'm in 9th grade, a freshman in highschool.
Somehow, I've surrounded myself with people who I call friends. I've also erected a wall of words and attitude instead of silence and solitude.
I don't know where my story will take me, or yours you, but I sure hope it's a happy place. And that everything's worth it in the end.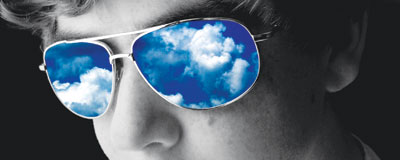 © Joseph B., Mesquite, TX