Beautiful.
March 9, 2011
All I have ever wanted to be was beautiful. To me, skinny was the definition of beautiful. What did I know back then? Back when I had to glance up above to see the shining sun, and not below. Nevertheless, I would do anything to take it all back, or at least bring my mother back. I would do anything to bring her back to my family. I was not that important anyway.
***
Chapter 1

I eat. And I cry. And then I eat some more.

Warm, chocolate fudge brownies overwhelming all my senses. The smell of the melted cocoa surrounding the lonely, silent house. All that is heard is my jaw chewing in circular motions. The feel of soft, brown dough meting all over my fingers as I bring the chocolate baked square to my watery mouth.

Chewing one bite at a time, I swallow it with no regrets because I know nothing will permanently stay.

How could he? Most of all, why would he? Everything was perfect before. Well sort of perfect, except for the fact that I was always insecure. I read in Cosmo that guys can sense your insecurities. Maybe that is why Cole broke up with me.

Nobody is home. All my secrets stay inside this rueful house. Nobody knows. Not Olivia, and definitely not my parents, or my brother. Just me. And the worst part is, it feels so good.

Feels good to eat all your problems away, and then hover over the white bowl, and they flush down just as easily as they were swallowed. Two clean, pale fingers in, two chocolate covered fingers out. Stomach clenches rapidly as it nudges all the treats back to the beginning. The beginning of their journey does not even go to halfway down my throat before they end up floating in the toilet.

I look down into the white bowl and see the chocolate floating on top, very still, as if it belongs there. I flush the silver handle down and the pieces of soggy, chocolate bread swirl down into the black hole, where my endless collection of barfed up food is hidden beneath the ground.
Chapter 2
When I woke up, I saw that Mom and Dad were already at work, constructing pieces of art and pasting their visions on a canvas with paint. That is originally how they met. Mom and Dad were really admirable students at their art school. It started off with study dates and then they fell in love. It was every person's fantasy. How typical. Instead of a nice, hot breakfast there is a note on the kitchen table.
Ryan~ Don't forget you have to babysit Logan tonight.
Love,
Mom
I crumble the note and throw it on the black and white checkered tiles. Great. Now I'm stuck with my brother, Logan. It's not that he is all that bad, but do you expect a 15-year-old girl to like spending time with her annoying 11-year-old brother on a Friday night?

Without eating breakfast, I walk out the back door, underneath my favorite oak tree, and to my red Mazda. I blow a kiss to my oak tree as I do every morning. When I was little, I used to climb up the tree and cry where no one could hear me. And I could hear no one, except the rustling of the leaves in the cool Baltimore air. Sitting up there for a couple hours would give me a solution to all my problems. It was like the old, green oak could whisper words of wisdom to my ear in between the sounds of the soft shuffling of the leaves. Now that I am too big to climb it, I always to make sure to acknowledge my wise friend every time I see him.

As I sit down, I notice little clear tears roll down the windshield in the chilly April air. The last drops of rain that was left from last nights storm. It was as if it never happened.

I put the car in drive and off to the h*llhole I went. As I drive, my mind is completely blank. The same routine everyday. Left, right, left, right. Sleep through history and doodle in geometry. Then go home and pig out in my misery without thinking about what I'd be doing in the bathroom in a couple minutes. The same thing everyday felt as if I was dead inside. Nobody realized to look beneath the smile. To them I was that happy skinny girl who flirted with every guy that walked by and flashed her smile like a magical power.

As I take my pre-calculus book out of my locker, I spot Olivia running toward me excitedly. "Guess who got four tickets to the 'Dirty Rumor!'" she squeals and bounces up and down like she needs to use the bathroom.
My heart seems to skip a beat. The world around me comes to a halt and all I can feel are the corners of my lips stretching from ear to ear. The Dirty Rumor has been my favorite band since I could remember, and I have been dying to go see them.

"My mom is going to drop us off in New York at a hotel near the theater, and then me, you, Rachel, and Emily will walk to the concert, then we will have the time of our lives, and then we'll go back to the hotel to jump on the bed and make noise and then in the morning my mom will come get us and drive us back to New Jersey," Olivia explains all in one breath.
.
"I cannot believe this. Oh my God. You are the best, Olivia. Really. Do Rachel and Emily know already?" I ask.

"Yeah, I just told them during fourth period. So pack up all your sleepover stuff and be at my house tomorrow at noon. Don't be late!" Olivia says keeping in mind that time is my utter nemesis.
Chapter 2
I make a checklist for myself in pre-calculus while Mrs. Rogers explains the importance of algebraic simplifications. I almost miss the bell ringing since I tune out everything that is happening around me. The only thing floating around in my head is the fact that tomorrow night I will me sweating and screaming in a mosh pit, cheering and singing along to my favorite band.

I pack up my textbooks and scurry to my car so I'm not late babysitting Logan. I suddenly remember that Cole is not around to drive me anymore.

"Hey, Logan! No time to talk, gotta pack. I'm going to a concert with Olive tomorrow night!" I shriek to Logan who is eating Doritos in the living room.
I immediately dash to the barely-visited basement and dig out my mom's old Coach suitcase. Normally I do not need this big of a suitcase, but I have to look absolutely stunning for Chris Vienna, which is going to take a lot of shimmering make-up and sparkly accessories.
Ryan Vienna. How cute. And it is going to sound even cuter on my driver's license, which I'm getting in August.

Chapter 3

I arrive at Olive's at 12:30. Surprisingly, I am only a half hour late. I excitedly rush into her house without knocking and spot Rachel, Emily, and Olivia eating Joe's pizza at the kitchen table.

"There she is!" Rachel and Emily both exclaim.
I grab a tiny piece of Olive's leftover crust and nibble on it, trying to convince myself that I won't get fat from a couple crumbs of bread.

"Let's go upstairs and grab our stuff and throw them in the trunk. Mom will be home in fifteen minutes from her daily bike ride and I want to leave as soon as she gets home so that way we will have plenty of time to eat and get to the concert early. I hear there is a really good Italian buffet where we can just pig out like nothing before!" Olivia spits out all in one breath, as usual. I always wonder how she has so much lung capacity. She talks as if she's scared someone might interrupt her.

As we barrage our bags into the blue BMW, I felt the tiny bounce the car made as if it was also jumping for joy, just like us.

Olivia's mom comes home from her bike ride shortly after. Even though I felt like Mrs. Crimson was annoyed with us, it was still absolutely worth it, considering we checked in at our hotel a few minutes before 5 pm.

The concert starts at 8 so we have plenty of time to cake on our layers of sparkly makeup and glamorize ourselves for Chris.

As soon as we get ready we go to the Italian buffet in New York City which is conveniently across the stage from the stadium.

"Come on, Ryan. Why aren't you eating? You haven't eaten anything all day! And this food is amazing!" exclaims Emily.

"Guys, I'm not really hungry. Actually, I don't feel too hot," I lie.

"That's because you're not eating," says Rachel as she shoves a piece of her garlic roll in my mouth. I almost gag in front of them as the soft sour dough as it disintegrates in between teeth.

They can't know, I think, never.

I make myself eat. One serving after another. The more I eat, the more I crave. Slippery noodles drenched in alfredo sauce. Margarita pizza with the white cheese melted together on the thin dough. Garlic bread rolls with the aroma overfilling the entire restaurant.

All of it tastes so good, yet so bad. I can almost feel my cells of fat reproducing as all the food goes to my stomach. I look down and I see a muffin top getting bigger and bigger over my dark blue shorts. My thighs are stretching out and they jiggle when I stand up from the table and run out of the buffet, screaming.
Chapter 4

I am lying on my bed. I can't move because I'm too fat. When I stand up, all I do is fall back over. I hear muffled voices echoing in my ears but it takes me a while to make out what they are saying.

"Ryan! Ryan! Wake up! Are you okay? What happened? Oh my gosh, I'm so sorry! I really didn't know you didn't feel well! I was just trying to help."

"Just go," I murmur into my pillow. "Go have fun. I think I have the stomach flu. A really bad case, too. I'll be fine. I'm just going to rest. I can't have you guys miss out on the 'Dirty Rumor' because of me."

"Are you sure you want us to go? We can stay if you need us, really. But we're going to call your mom so she can drive up here and get you"

I finally realize its Olive talking to me as Rachel and Emily both shuffle around the room, not knowing what to do.

"Just go," I repeat.

I spend the next two hours lingering over the toilet bowl in our hotel's clean bathroom. I can feel and smell the garlic coming out of my mouth. And the cheese. And the bread. And the salad. And the pizza. And the fettuccine alfredo. One after another all mixed together like a smoothie made of all Italian food put together. My stomach muscles contract each time the green-colored food cascades out of my sore throat. I take deep breathes in between every time. Out of the corner of my eye, I spot a reflection of my chubby cheeks in the gleaming gold toilet paper holder. Tears form in my eyes as I stare my fear right in the eye: my fear of being ugly, and being fat, and being imperfect to the eyes of everyone around me.

I hear a knock on the door that sounds like a woodpecker quickly pounding on a Redwood tree.

Oh no! It's mom. No way. How long has it been? I have to clean myself up quickly.

"One second!" I call towards the door.

The room around me spins slowly and I become light-headed. My balance fails me when I trip over my shoe. I can't speak or think or yell and my mind is blank. Then I black out. I cannot see anything buy colorful sparkles under my eyelids glimpsing through the pitch black screen that is blocking my brain. And that is the last thing that I recall from the end of my 15-year life.

Chapter 5
The New York Times
Mother and Daughter Found Dead in New York City!
By Linda Baker
April 15, 2007
Baltimore, Maryland
On April 14th a wife and daughter were reported missing by John Vinn, a loving husband and father. His daughter, Ryan Vinn, age 15, supposedly went to a concert in New York City to see the "Dirty Rumor." Larissa Vinn, mother of Ryan, drove from Baltimore to New York City after receiving a phone call saying that her daughter is extremely sick. The next day the mother was found on Pine Meadow Lake Trail in New York with a shotgun lying next to her bloody, dead body. After both bodies were examined by doctors, it appears that Ryan Vinn had severe experiences with bulimia nervosa. From this disorder, her esophagus was ruptured and she passed away. Although the cause of Larissa Vinn has not yet been discovered, it is predicted that she suffered from anxiety after realizing her daughter was dead. She then took her to the forest to bury her daughter, and ended up committing suicide.

***
All I have ever wanted to be was beautiful. To me, skinny was the definition of beautiful. What did I know back then? Back when I had to glance up above to see the shining sun, and not below. Nevertheless, I would do anything to take it all back, or at least bring my mother back. I would do anything to bring her back to my family. I was not that important anyway.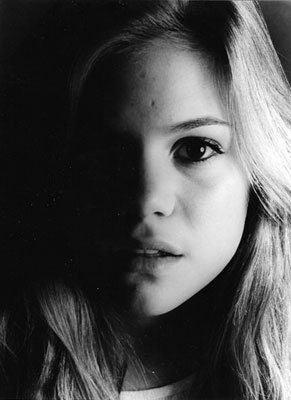 © Michelle M., Plainview, NY