Who Is Really Dead?
February 25, 2011
Wind rushed passed me, chilling my face. I brushed hair behind my ear and continued to walk. I had two options, walk home in the freezing Maine whether or watch them drop my brother into a deep hollow death hole. I said my goodbyes in the car that day, I say them every night in my nightmares; my nightmares where his blood streaked face and cut arms chase me. I will never need to see him be buried; I don't want to remember him that way. I want to remember wrestling with him, with his torn faded jeans and his wild chap lipped smile. Not as the prissy elegant boy they are making him out to be. That wasn't— isn't who he is at all.

I see my old fashioned house with the big muddy broken down truck in the front. Woods like the yard about twenty feet from the porch, they look empty from here. Like there's nothing in them but shy squirrels, crinkled leaves, and tiny bugs. I know better. It's full of things for me, memories and a hidden tree house almost a mile back. I rushed to the somber woods, oblivious to the rain trickling down my face. I passed first the stream with the sturdy old stick bridge, then the big rock where I built my first lady bug house, then the trail to the tree house.

It used to look big to us; I used to be able to lay in it with him. We built it ourselves we used everything we could, old sheet metal that left us with oozy cuts; left over wood from dads many projects that gave us deep splinters; even some pieces of card board. I have to say we did a pretty decent job, it hasn't fall down yet. I haven't been in it in almost three years and a lot could have changed. I decided to climb in and see what was still in there. I swung my legs over a branch, it made strange noises and dead bark fell away. My hands clutched another branch the way they had some many times before. It felt good. Familiar. I kicked my legs inside it and stretched, grabbing the side bars and pulling myself in.

I looked around, the wood looked rotted, it was damp and looked like it would let you fall at any moment. I saw only one thing on the walls, an old picture. He had drawn the woods from our house once, it looked cynical. The lead had smeared with water; it was in a less leaky area thankfully, so it wasn't ruined. I pulled it off the wall gently, I folded it in forth's and forced it into my pocket. Then the rain started to pour. Not from the sky, but lightly from my denim blue eyes. Our blue eyes; the ones we shared. We shared a lot. Everything; twins do that. It finally all fell in; the over whelming loneliness of losing my other half. My partner in crime, my best friend, is gone and it hurts.

My eyelids close, the world goes black, the tears tip-toed down my face. I opened them hours later, as my vision began to smooth out. "I need him" I mumbled. I pushed up the sleeves of my shirt, analyzing the cuts. I grabbed a shard of mirror and looked at myself. My lifeless eyes with discolored bags lining them and my chapped bitten lips starred back at me. I thought back to the time since the accident. And now I ask myself, who is really dead?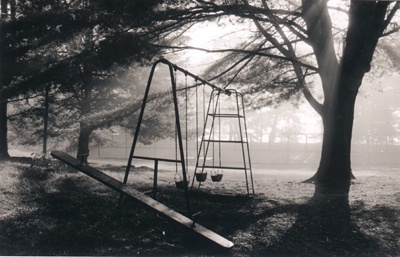 © Steve S., Marblehead, MA