The Rocking Chair
February 24, 2011
My parents hired her when I was born. They didn't want to change their lifestyle for me. Of course, I never thought anything of it—it was the only scenario I was familiar with. I rarely even saw my parents. My nanny always told me they loved me, but the only love I ever got was from Nana herself.

Sometimes my parents would come home late at night, and drunk. They would stomp about the house, slamming cupboards as they went. And the yelling… there was always yelling.

It was these nights when Nana would sit me on her lap in her rocking chair. She turned on the radio to listen to her cooking show, the static a comforting display of imperfection. Nana would rock back and forth with me until she fell asleep. I listened to her cooking show and tuned out the ruckus that was my parents. I learned a lot from that show.

During the day, Nana would take me on errands. I knew the value of a dollar before I knew the alphabet. We would play a game she called "Bang for Your Buck." She would pick two items of the same type, but one was a generic brand. I would guess which the cheaper item was.

After errands, we would always go to the library. I would close my eyes and walk among the picture book aisles and choose some books at random. Eventually I learned where my favorites were and I would always "accidentally" pick them, but Nana pretended like it was a new book every time. She read the books to me in the rocking chair, pressing her toes to the ground to keep the chair in motion. Usually I fell asleep during the first book, but she always finished all of them because she thought she might be influencing good dreams.

One day we were out running errands when we saw my parents stumbling along on the sidewalk. The spotted me and began to yell things like "Come to Mommy, Peter!" and "We won't love you unless you love us, Peter!" At this Nana rushed me into the nearest shop and we hid in a dressing room. Nana held me in her arms, strong and comforting. I savored the musty smell of her blouse and closed my eyes away from the cheap fluorescent lights. Nana had to go to a wedding that night, so I slept in the rocking chair with the door locked and the cooking show on.

When I was a teenager and Nana had long been let go, my parents were on their way home from a club, drunk. They walked onto a crosswalk before it was safe and were hit by a truck on the busiest intersection in town. I didn't know how to react. I loved them in the way that they were my parents and it was thanks to them that I was alive at all, but that was as far as the love went. I hated them for the lifestyle they had chosen. I hated them for neglecting their own son. I hated them for firing Nana.

When Nana left, she had given me her rocking chair. Every night I would pretend I was little again, sleeping in Nana's lap while she read to me. So every night I sat in the rocking chair, pressing my toes to the ground to keep it in motion, eyes closed, listening to the radio show. I had decided I wanted to go to culinary school because of everything I already knew. The kitchen was the closest room to my bedroom, and I was the only one who ever used it because my parents had always "eaten out."
The funeral came and went. Somehow I had managed to put together an acceptable eulogy while sitting in the rocking chair the night before. I had been living alone at the house for about a week by then, and no one had contacted me because all my parents' friends were just like them, and I had never met any other family. I didn't even know if I had extended family. I walked to school every day and I spent the hours between listening to that same old cooking show and burying myself in my school work.

But after the funeral, I realized I needed somewhere to stay. When the attorney read the will, I found out my parents had left the house and all their money to me. I remembered my dad coming into my bedroom one night and told Nana to write his Will. Of course she read it to him and he signed it, but I knew that if it had been all up to him he never would have thought to include me at all. So it was thanks to Nana again. Talk about silver lining. In a year I would graduate high school and go to culinary school, but I needed somewhere to be until then.


I decided to give my old nanny a call. She would be in her 70's now. When the woman on the phone answered in her proper high-pitched grandmotherly way, I was able to picture her all over again—from the pleated skirt to the tarnished locket she always wore. I nearly burst into tears. But that was inappropriate for a 17-year-old boy. I told my nanny everything. Before I could get to the issue of where to stay, she said, "Peter, come live in my house." And that was that. I moved in with my nanny and graduated high school as valedictorian. I went to culinary school, sold my parents' house, and opened my own restaurant in Nana's neighborhood. Nana died the week before the restaurant opened, but I still have that rocking chair. And I still listen to that cooking show.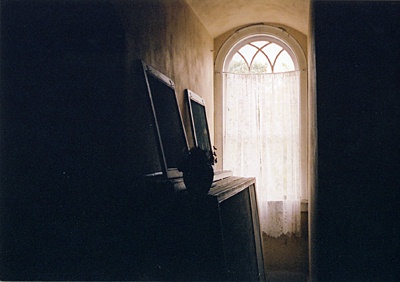 © Kandi B., Vacherie, LA