In your dreams
February 28, 2011
The air smelled of saltwater and sun-baked sand. Walking through the cool ocean water felt good with the sun beating down on my shoulders. I looked down at my feet and then back at the footprints in the sand we had been making. My feet made tiny marks, compared to the huge ones he left behind, I noticed as another wave crashed around our ankles.

"Daddy, when will my feet make as big of footprints as yours?" I asked, looking up at his sun illuminated face.

He laughed and smiled.

"When you grow up to be a big girl, your feet will get bigger."

"I can't wait to be a big girl," I said, happily splashing in the water and wet sand.

"Time flies by fast. Don't you worry sweetheart," He replied, a tinge of sadness in his voice. I continued playing in the water, his tone going unnoticed.

I wrapped my whole hand around two of his fingers, mostly because that is all my small hands could hold. I turned my attention to the ocean, it's vast expanse, and distant waves intriguing my young mind. I wish I could stay in this moment forever, walking along the beach with my father, staring at the blue ocean water. Nothing could ever get better than this moment.

I turned my head to look back up at my father, but he wasn't beside me anymore. I didn't even notice him let go of my hand. I frantically looked around, studying the footprint trail behind me. The same sized footprints were still there on my fathers side, but somehow mine looked larger. I felt fingers, slip between mine, and turned back around to see not my father, but someone else. Instead of feeling fear, I felt relief. He pulled me into his arms, and I rested my head on his chest, the soft pitter patter of his heart comforting in my ears. I looked up at this stranger, and began to feel at home. He changed from someone I'd never met, into someone I couldn't imagine myself without. When he started to released me, I felt the urge to hold onto him. I looked into his familiar eyes, and flashbacks filled my head. Years passed in front of me, within only a few seconds.

I crashed back to reality, and pulled his face to mine, kissing him, and let life sink back in. He smiled down at me and I grabbed his hand,only being able to hold two fingers because of the size of his hand compared to mine. As we continued walking along the shore, I brushed off the memory of what I thought just happened. I wasn't a little girl again, and my father didn't revolve her world around me anymore. The person beside me was my world now, and I was his. The past wasn't coming back now, or ever.

They were only footprints in the sand.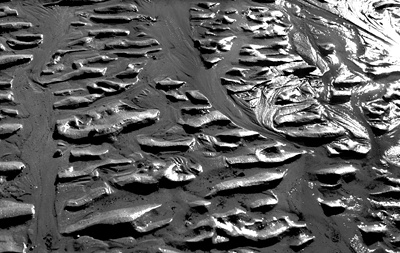 © Becky H., Springfield, NH